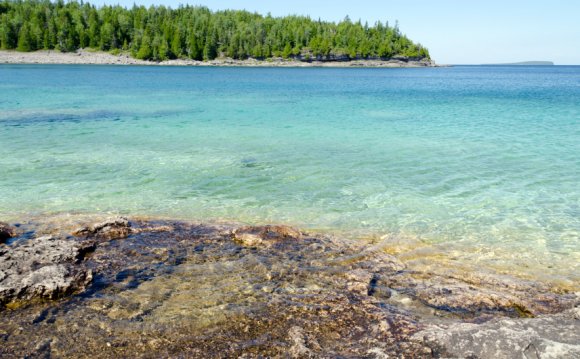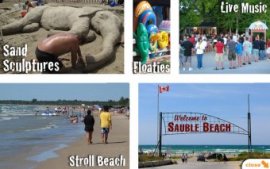 This is your lucky day.
Now, close your eyes and imagine yourself on a lawn chair, toes tucked into the sand, listening to the calming sound of waves crashing on a Lake Huron beach shoreline...
Did you know that Bruce County is home to white-sand, clear water beaches that campare to those of the Caribbean?! We think so!
We have the most beautiful beaches, and are proud of it! If you live in Southern Ontario, and are looking for a beach getaway that's not too far from the city, then you should visit one the five very popular beaches below!
1 - Sauble Beach
Welcome to ! The famous red sign will greet you as you enter town and head towards the Lake Huron shoreline, an 11 kilometer long stretch full of sand, tans, and summer fun! Sauble Beach was voted the #1 beach in Ontario, and is Bruce County's busiest beach destination.
Sauble Beach is home to tons of fun activities, and is a great place to spend a family vacation.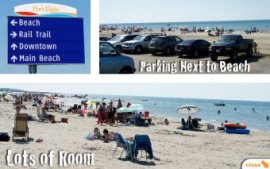 The beach has a little something for everyone—from Jet Ski rentals, to volleyball courts, to stand up paddle boarding and water trampolines (Jack N Jlls Surf Shop on the main street)—you're bound to find some fun! If you're looking for a break from the sun, stroll down Main Street to do some shopping, test your luck at Giggles Arcade, or showcase your skills in a game of mini-putt. Sit down and enjoy a bite to eat at one of the towns' local restaurants—one of my favourites, Channing's, has some of the best Chinese Food I've ever had! If parking is a concern, it's free along the main street leading to the beach with various beach parking that has small fees, so make sure to bring some loonies and toonies. Here's a page for finding Sauble Beach Cottages.
2 - Port Elgin Beach
Choo! Choo! If you are headed to the Port Elgin Beach, chances are you'll stop at The "Train" Station—the local candy shop with a FUNctioning mini stream train. Let's be honest, the kids won't be able to resist the smell of candy apples, so you might as well make The Station your first stop at the beach. Port Elgin is the ultimate family beach destination in Bruce County. Here's a list of Port Elgin Cabins and Cottages. *Sorry, no dogs allowed in beach area*
Day and night this beach is filled with people enjoying everything that it has to offer:
Sunday nights in July and August at the bandshell featuring local musical talent
Beachside flea market every Wednesday with home unique treasures
Dig, set, spike—beach volleyball nets are open, bring your own ball
Climb the playground equipment
Have a friendly game of mini golf
Free parking right next to the beach
Driving Directions:
3 - Kincardine "Station Beach"
Boardwalks, giant blue beach chairs, and a 1 kilometer white sand beach are just a few of the characteristics that make Station Beach a memorable family vacation destination in Kincardine! The boardwalk, bordering the beach, is a great place to take a stroll with loved ones and enjoy the scenery, or take in some history about local shipwrecks through the interpretive signs.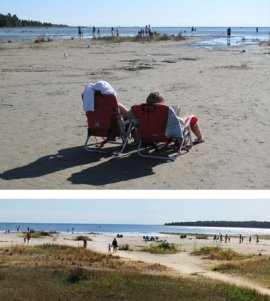 As the boardwalk extends south along the shoreline, the little ones will be pleased to find a fully equipped playground, located conveniently beside washroom facilities, a water fountain, and even an outdoor shower! And don't worry about parking, it's free all over!
4 - Oliphant Beach
Oliphant Beach has evolved to become a Bruce County hidden gem! Located just 15 minutes north of Sauble Beach, it offers a shallow, warm, and sheltered beach area that is ideal for adventure and leisure activities. Oliphant is typically a family destination, because the shallow waters offer a safe place for little ones to play. It's also a great place to lounge in the water—so don't forget your floaties! The beaches at Oliphant have recently become a very popular destination for Kiteboarding and Stand-Up-Paddle Boarding but, don't worry they kiteboard away from people relaxing on the beach. Oliphant is great for beginners because the fishing islands harbor the shore, keeping waves and wind to a minimum. If you've ever wanted to try Kiteboarding or stand-up-paddle boarding this is definately the place to be. I'd also like to share that the fishing islands are a great spot to kayak or canoe - with parking at the local pier that is free!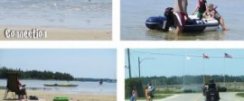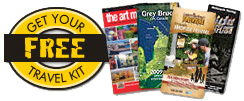 YOU MIGHT ALSO LIKE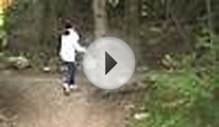 Lake Huron - Sauble beach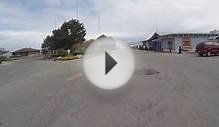 2010 Lake Huron Beach Ride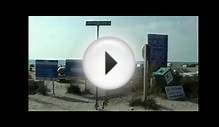 Lake Huron at Sauble Beach in Southern Ontario Canada
Share this Post