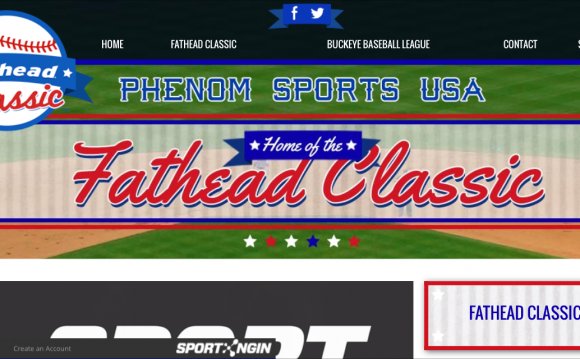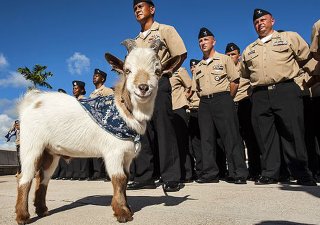 It is a story about a 'colorful' Skipper of a Ticonderoga-Class Guided Missile Cruiser and a little Pygmy Goat that got the ride of its life across the Pacific Ocean. It has brought controversy and instability to a crew, heavy media attention to a goat, and the end of said Skipper's career, and we have an inside source on all of it.
The Cruiser Lake Erie's Captain, John Banigan, came under review for various questionable management practices, and during this review, investigators became aware of an unsanctioned crew member, Master Chief Charlie.
According to the Navy Times, it all began when the Lake Eerie's Command Master Chief told subordinates that they should get a goat as a mascot, as a reference to the "Goat Locker, " a nickname for the Chief's Mess aboard the ship. The idea was to get a stuffed goat, or some effigy of sorts, but instead, the chief selects thought it would be hilarious to get a real goat as a practical joke. They procured a little white and brown Pygmy goat and made him a uniform vest with the ship's insignia and other icons adorned on it.
From then on, the legend of Master Chief Charlie was born. He was a massive hit, showing up at ship functions and playing with sailor's children. The diminutive goat was also apparently a very effective mascot that boosted morale and brought the ship's crew together. He even met Vice President Joe Biden!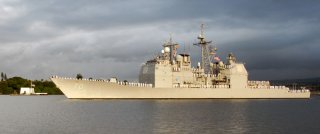 All this was back in 2012, when the Lake Erie was still home ported at Naval Station Pearl Harbor in Hawaii. During this time, the goat lived its non-service days happily at one of the crew's homes that had ample space for the furry four-legged Master Chief to roam around, eat weeds, and jump on stuff.
Then the Lake Erie received orders to transfer from Hawaii to San Diego. Such an event is always challenging for a crew, but this was especially hard as they were faced with the question of what would happen to their beloved pet goat. Apparently, nobody wanted to leave him behind, including the Skipper, so he joined the crew on the 2, 600 or so mile voyage from Hawaii to California.
Sadly, there is little space for the crew aboard a US Navy ship, yet alone livestock. As a result, the goat ended up being chained up on the stern of the ship, near the Cruiser's vertical launch system, for the arduous voyage. The Navy Times had one Lake Erie sailor quoted saying: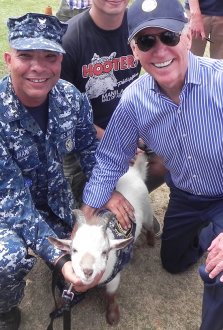 "It's a pretty long transit and every time we'd walk by I'd be thinking, Man, this goat is going to die..."
But goats, even small domesticated ones, are very hardy animals, and Master Chief Charlie survived the voyage, becoming the ship's "Salty Goat." He was now more closely tied to the crew than ever. He, too, had traveled the high seas, just like them.
In fact, the Navy has a long history with goats. The mascot of the Naval Academy is a goat, and the Navy once embarked goats to provided a source of fresh meat and milk when ships were at sea. They swim well, are relatively small, very sure-footed, and they can coexist with humans seamlessly.
Although there are said to be no rules against boarding livestock onto a US Navy vessel, the problem was that Master Chief Charlie never went through the proper importation process via the California's Department of Food and Agriculture's regulations, whereby goats entering the state need a vet exam, micro-chipping, and a permit issued to the owner to keep the animal.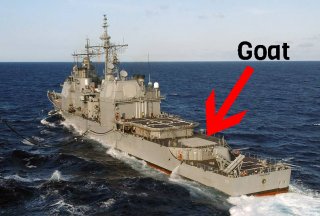 This was eventually sorted out, and the goat is said to be living a happy life in California, but the Navy, upon its investigation into the Captain's surly behavior and command record, was not happy about any of it. Chaining little goats to a Cruiser's missile farm during a transit across the Pacific may not break any written regulations, but it is clearly bound to piss of a lot of people.
But for the embattled Skipper, this was about more than a goat.
According to an exclusive Foxtrot Alpha source who wishes to remain anonymous, the Captain was a mixed bag when it came to management style - or lack thereof - and the goat in question took more than one voyage aboard the Lake Erie (errors their own) :
I think Capt. Banigan was driven between two navies: the one that likes to have a good time, and the one that is increasingly trying to be politically correct and run like an corporation. Ultimately he was fired because he displayed incredible favoritism to some officers (who he liked) and didn't have the time of day for others. He was also somewhat openly racist and drank too much. He inserted himself into the wedding of a junior officer and had to be driven home from the reception because he had drank so much he was wandering around Coronado with his uniform half off.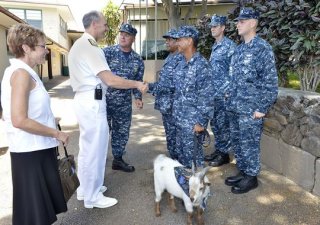 Another contributing factor to the firing was that the Admiral who ordered it (Mewbourne) botched it so bad that he had no choice. The investigators were onboard the ship for almost a month on three occasions, and gave Sailors leading questions. At the end of that, the crew's own confidence in the CO was so shaken that the Admiral had no choice but to remove him. Our Supply officer is also under investigation, and has been held onboard for an extra month to face whatever is coming his way.
Also interesting is that the Captain who was supposed to take over as the CO in July (Capt Cegelski) has had his orders cancelled because he was seen as unfit for our ship.
As for Charlie, the decision was made to take him across when it appeared that CA agriculture laws would be too much of a burden to deal with for the import. And the goat wasn't tied up the whole time, people took it around the ship on the main deck. The second voyage that everyone has been wondering about? That was an officer who got married while underway. They took the goat from Seal Beach to San Diego. Charlie was the ring bearer!
Charlie is no longer attached to the Lake Erie. They sold him when the investigation started.
So there you have it, the inside scoop on the salty adventures of one Pygmy Goat and the end of one questionable Captain's career.
YOU MIGHT ALSO LIKE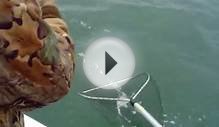 Lake Erie Fishing with Captain Tony Denslow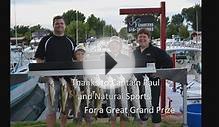 Fishing Lake Erie with Captain Paul Powis
Share this Post