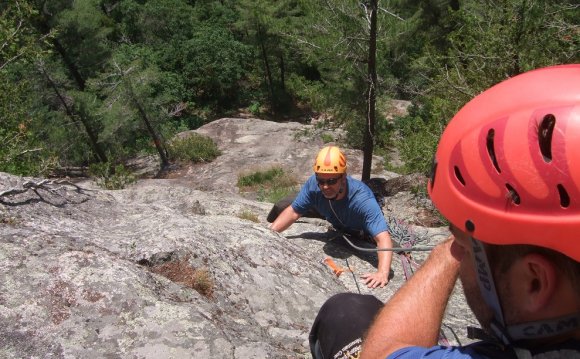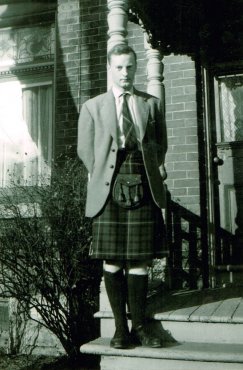 James Robertson - Photo taken in 1957
at 67 Colborne St. (where first classes
of Queen's were held, 1842)
Fascinated by geology from an early age, James (Jim) Robertson chose the path of a Field Geologist, working for the Ontario government. Much of his work was focused on Blind River - Elliot Lake in Ontario and has made a significant contribution to research focussed on that area.
Jim grew up in the U.K. and developed an early interest in Geology at Aberdeen Grammar School, in Scotland, followed by four years at Sedbergh (then in Yorkshire now in Cumbria) England. His interest was deepened by the location at the border of the Lake District and the Pennines. Being resident in Sedgwick House (named for Adam Sedgwick) he was greatly encouraged by housemaster C.R. Ward and form master D. Vaughan. He then studied Geology at Aberdeen University under T.C. Phemister, graduating with a B.Sc. Honours in 1956. During his time at Aberdeen, he carried out field work for ODM and completed an undergraduate thesis on Blind River, Ontario.
Encouraged by Professor Phemister, he moved to Canada, choosing to further pursue Geology with Masters studies at Queen's University under Professors Hawley, Ambrose and Jolliffe. Jim was awarded the Aberdeen Kilgour Sr. Scholarship 1956-1958 and the Queen's R.S. McLaughlin Fellowship 1956-1957. Jim continued his field work on Blind River with the Ontario Department of Mines (ODM), during his time at Queen's, advancing to Field Party Leader. He completed his Master's degree from Queen's in 1960 (thesis was based on the geology of the Greater Blind River area).
From 1959 to 1960 Jim studied Economic Geology at the University of Toronto under Dr. Gross.
In 1960, Jim joined the staff at ODM and thereafter continued working with the Ontario Geological Survey (OGS), undertaking numerous roles including recruiting summer assistants and participating on several committees. From 1960-1973 he continued as a Field Geologist, then from 1973-1980 as a Senior Geologist - First Section Chief Mineral Deposits Section. His work on Blind River – Elliot Lake resulted in numerous publications, papers and field trip guides for both the ODM and professional bodies. Some of these publications include:
Robertson, James A. 1969, Geology and Uranium Deposits of the Blind River Area Ontario, CIM Transactions, Vol. LXXII, 156-171.
Robertson, James A., and Card, K.D. 1972, Geology and Scenery, North Shore of Lake Huron Region, Ontario Geological Survey, Geological Guidebook 4, 224p.
Robertson, James A. 1975, The Blind River uranium deposits: the ores and their setting, The genesis of uranium- and gold-bearing precambrian quartz-pebble conglomerates, US Geological Professional Paper 1161 A-BB
Robertson, James A. 1975, Mineral Deposit Studies, Mineral Potential Evaluation and Regional Planning in Ontario, Ministry of Natural Resources, MP61
Robertson, James A. 1975, Uranium Deposits in Ontario, Uranium Deposits, their Mineralogy and Origin:

a short course sponsored by the Mineralogical Association of Canada, Editor M.M. Kimberley, 229-250. See also OGS maps p. 969-972

Robertson, James A. 1989, The Blind River (Elliot Lake) Uranium Deposits, Uranium Resources and Geology of North America proceedings of TCM, IAEA Saskatoon Canada, 1-3 September 1987, 111-147

Bennet, G., Dressler, B.O., and Robertson, J.A. 1991, Paper 14, The Huronian Supergroup and associated intrusive rocks, Geology of Ontario, OGS special publication, 4, 549-591

Generalized map of the Blind River- Elliot Lake area
In 1980 Jim transferred to the Mineral Resources branch as a policy advisor (Uranium).
In 1981 Jim was accepted by the Association of Professional Engineers of Ontario (APEO) on the basis of his education and professional life to that date.
By 1985, Jim had completed 25 years of full time service with the Ontario Government, retiring in 1992.
His career featured Huronian geology and economic geology of Ontario's uranium deposits. He gave talks, led field trips for academic and industrial groups and visiting delegations and rendered advice and assistance to graduate students.
Jim is a lifetime member of the Canadian Institute of Mining, Metallurgy and Petroleum (CIM) and the Geological Association of Canada (GAC). Also a long term member of Canadian Nuclear Society (CNS).
2014 is the 60th year of Jim's association with Canada, ODM and Blind River- Elliot Lake and marked the recognition of over 25 years as a life member of the Prospectors and Developers Association of Canada (PDAC).
Jim recognizes the relationship and cooperation of teachers, assistants and colleagues at OGS, GSC and universities.
Jim and his wife Reima of over 46 years, live in Oakville, Ontario. Both were active in neighborhood watch, the Oakville Christian Women's Club, and the Knox Presbyterian Church (Spadina, Toronto). Jim continues to support the Department of Geological Sciences and Geological Engineering at Queen's.
YOU MIGHT ALSO LIKE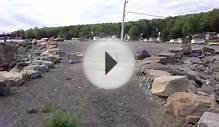 Henderson Harbor NY Lake Ontario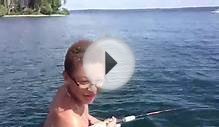 Lake Ontario Bass Fishing
Share this Post