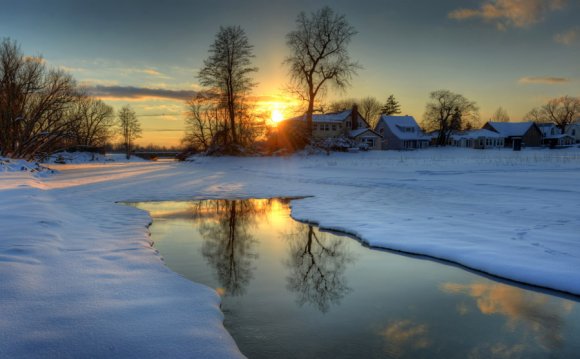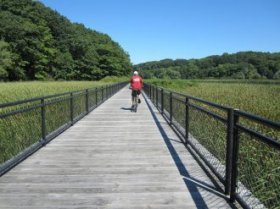 The second part of The Biking in Rochester Series showcases the route from downtown to Lake Ontario, following the Genesee River Trail. It is 20 miles, roundtrip, from downtown to the end of the pier at Lake Ontario Beach Park and back. Actually, I'll take us a bit further and ride along the lake shore, east to Sea Breeze – adding another 8 miles to the trip.
Although this route is not as consistently scenic as the first one, it has much better rewards, and you get more of a workout. We'll pass by 3 waterfalls, 3 beaches, 3 lighthouses, and two piers out onto the big lake. The western portion of this route is on the Genesee Riverway trail, a mostly completely dedicated bike path such as the one on the canal. The eastern portion is on King's highway/Goodman street…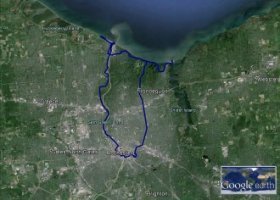 This is probably my favorite route of the ones I've been on so far. Starting at downtown, it is a net 300 feet downhill to the lake from downtown. Remember, that means uphill on the way back!
We a start off downtown, and head north along Exchange/State Street, toward the High Falls District. This section is on city streets (riding on the sidewalk is prohibited in the center city district).
Be careful when entering the High Falls District. Even if you have the right of way, drivers from the ramps of the inner loop are rarely paying attention. Turn right on commercial street, then left on Browns Race.
Browns Race will lead you to Granite Mills Park and the Pont de Rennes bridge.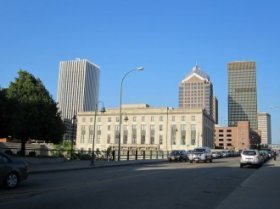 Cross over the Ponte De Rennes bridge to pass by the 96 foot (52m) High Falls.
How many other cities can boast a nearly 100 foot waterfall in their downtown? (Not many) You go, Rochester!
Once we get to the other side, we follow the (not so nicely paved) Cataract Street to Saint Paul Street.
The ride on Saint Paul street lasts for about a mile, passing the Genesee Brewery.
This is a very industrial section of the city, but the street has a bike lane, which appears after Bausch St./Upper Falls Blvd.
We then turn off to the left, and onto the Genesee Riverway Trail. A church on the left at marks the location of the turnoff. Watch for the Genesee Riverway Trail sign.
The trail is a steep, winding, downhill into the river gorge.
We then reach Middle falls, which has the Rochester Gas and Electric plant built on it. We ride right over it. There has been construction at middle falls lately, so the gates may be closed, though this is unlikely. If the gates are closed due to it being after hours, there is a phone outside the gates or a number you can call. There is a camera, and they will remotely open the gates for you, giving you enough time to cross.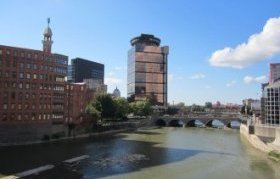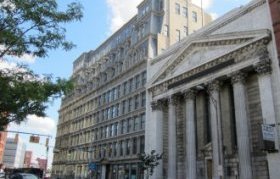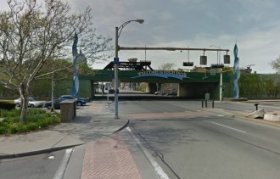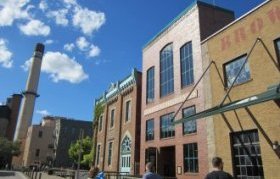 YOU MIGHT ALSO LIKE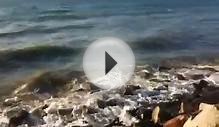 Lake Ontario - beautiful waves crashing along shoreline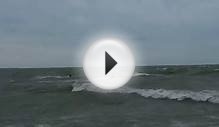 Jumping waves on Lake Ontario Rochester NY 8/28/11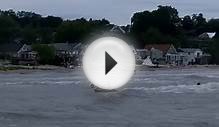 Overturned Seadoo on Lake Ontario Rochester NY 8/28/11
Share this Post