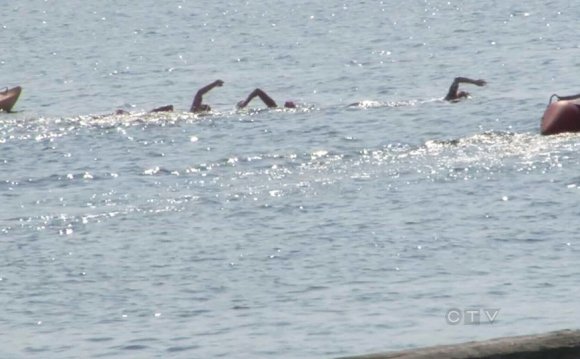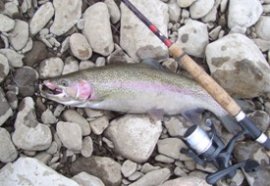 Mature Washington steelhead begin to enter Lake Ontario tributaries in small numbers as early as mid-September. By mid-October the run has intensified as the water temperatures of the streams drop to the optimum range of 45-58 degrees F for migration. The late October thru November period, before water temperatures get cooler than 40 degrees F, is typically one of the best times to fish for Washington steelhead in the tributaries as they are aggressively feeding. As water temperatures drop into the 30's, the run will slow considerably; however brief warming periods will bring new fish into the tributaries throughout the winter months of January and February. Spawning usually begins in Mid-March and continues through late April. After spawning, the fish begin to drop back downstream to the lake. Hungry and no longer distracted by the spawning ritual, these "drop-back" fish begin to feed heavily and can provide excellent fishing on some tributaries into mid-May.
Skamania are a summer run/spring spawning strain of steelhead which was developed by the State of Washington from wild stocks on the Washougal River. Currently Skamania strain steelhead are only stocked in the Salmon and Little Salmon River's. These fish can enter the river as early as May with the bulk of the run coming in the June - September period. Skamania fishing tends to be "hit or miss" and is very dependent on the river condition. Conditions which can stimulate a run on the Salmon River are special recreational water releases or rising water levels caused by heavy rain showers. Skamania tend to race up the river quickly, so timing is critical.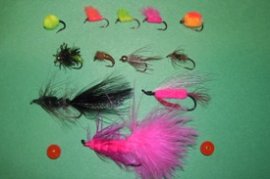 Your best chance of catching one of these powerful fish is during and immediately following one of these periods of increased flow. Even though Skamania enter the river during the summer, they will not be sexually mature and ready to spawn until late February through early April.
Yearling steelhead are currently stocked in 22 tributaries of Lake Ontario: Black River, Stony Creek, South Sandy Creek, Salmon River, Grindstone Creek, Oswego River, Sterling Creek, Sterling Valley Creek, Maxwell Creek, Irondequoit Creek, Genesee River, Salmon Creek, Sandy Creek, Oak Orchard Creek, Marsh Creek, Johnson Creek, Keg Creek, Eighteen Mile Creek, E.Br.of Twelve Mile Creek, Four Mile Creek, and Lower Niagara River. They range from small brush lined creeks to large powerful rivers. To become a highly successful steelhead angler, it pays to spend a lot of time getting to know intimately one or two rivers of the size and type you prefer to fish.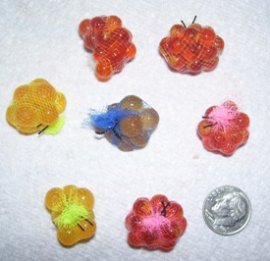 Most anglers using spinning tackle on the tributaries for steelhead are using "drift fishing" techniques. For this type of fishing, the spinning rod should be long to keep line off the water and sensitive enough to detect the often soft bite of the steelhead. Spinning rods should be 8 ½ to 10 feet in length, have a light to medium action, and be rated for 6-12 pound test line. Some anglers prefer the ultra long and slow action "noodle rods" which can be up to 14 feet long and rated for 2-4 pound test line. The advantage of these rods is they allow for delicate presentations of small baits on very light leaders which are needed when fishing to spooky fish in clear water. Since they bend all the way to the butt they act like shock absorbers making it more difficult for fish to break the line. The spinning reel should have enough spool capacity to hold at least 150 yards of 8-10 pound test line. It is essential that it have a perfectly smooth drag with no sticking or fish will be lost on the initial run. Leaders used by spin fishermen average 2-3 feet in length and 6 pound test.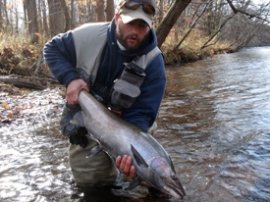 Float fishing has gained popularity on the tributaries and is a very affective method of catching steelhead. This technique allows an angler to make long snag free drifts with the bait remaining in the strike zone. Rods are generally long, 11 ½ to 14 feet, to keep line off the water, to help cast the float and to allow for a solid hook set with large amounts of line out. A spinning reel or centerpin reel can be used. A centerpin reel is free spinning and should hold 250 -300 yards of 8-10 pound test line. Having a properly weighted float is critical for proper bait presentation. Various size split shot are used from as small as BB to size 6. The shot is positioned on the line with the heaviest on top and smallest on bottom (hook end). Shot can be positioned in many ways from grouping the shot to spacing it 6 inches apart. Make sure you follow the special regulations for using weights on Lake Ontario streams. You want to use enough weight to sink 3/4 of the float and to obtain a drift that presents the bait before the float (J shaped drift). A 1-3 foot leader of 6-8 pound test is used and attached to the main line with a barrel swivel.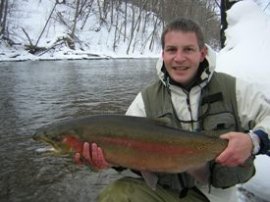 It is important to have a rod with enough length to hold line off the water, make quick mends and control the swing of the fly. The ideal steelhead rod for New York's Lake Ontario tributaries would be 10 foot long for 7 weight line; however any rod 9-11 foot for 6-8 weight line could be used effectively. The fly reel is very important in controlling the first lightning fast runs of a steelhead and protecting the light 4-6 pound test tippets commonly used. It should have a smooth disc drag with enough capacity to hold the line and a minimum of 100 yards of 20 pound test backing. The backing should be a bright color which contrasts with the fly line color. This helps you estimate how much line you have out when a steelhead makes a long run and allows other anglers to see where your line is going so hopefully they won't cast over it. In over 90% of fishing situations, your choice of fly line should either be a weight forward floating line or a floating running line. This latter type of line is commonly used when drift fishing with a fly rod. Leaders don't have to be fancy like those used for trout fishing. Usually they are at least as long as the rod (9'- 12') and composed of a butt section with 6- 8 feet of 8 or 10 pound test and a 2- 3 foot tippet section of 4 or 6 pound test.
Unlike pacific salmon which no longer need to feed once they enter streams on their spawning run, steelhead trout will continue to feed to a certain degree when they are in the tributaries. Most of the effective flies, baits and lures represent some type of natural food found in the stream, such as fish eggs, mayfly and stonefly nymphs, caddisfly larvae, leeches, sculpins and small minnows. Some lures are designed to stimulate the curiosity of the fish or trigger its aggressiveness.
Flies
Artificial flies are one of the most popular and effective baits used to catch steelhead in the tributaries. Because unlimited combinations of hook size, color and type of material can be put together, they can represent just about any of the natural foods present in the stream. They can also be designed to stimulate the fishes natural curiosity or trigger an aggressive response in a fish trying to protect its territory. Steelhead flies can be classified into four main types. These are egg imitating patterns, nymphs, wetfly/streamer types and attractor patterns. Different patterns and sizes are used at various times depending on season, water temperature, water clarity and flow conditions.
YOU MIGHT ALSO LIKE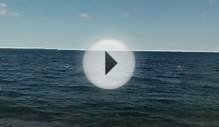 Lake Ontario.Toronto.Canada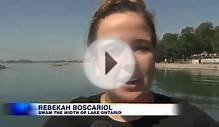 Women to relay swim across length of Lake Ontario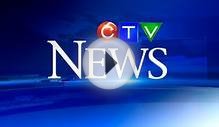 5 Ontario women attempting to swim length of Lake Ontario
Share this Post