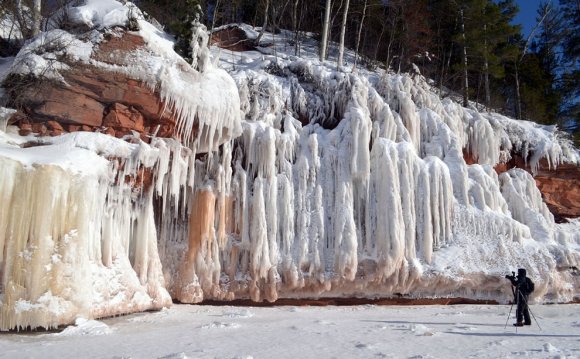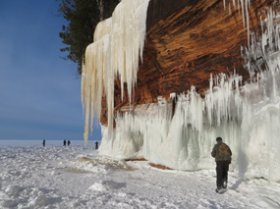 Mainland Sea Caves - Winter Conditions 2014 - Looking North
Photo by Julie Van Stappen, NPS
Critical points to assist planning for your hike:
- Be sure to dress appropriately for the conditions.
- Wear layers so that when you heat up from the hike, you can remove a layer. When you get colder you can add those layers back on.
- Wear supportive winter boots. The hike from the bottom of the stairs at Meyers Beach to the first point of the caves is 1.1 miles away. The hike will take you over very uneven terrain, posing the potential for injury.
- Wearing crampon type products made for walking on ice will help you stay on your feet. Ski poles are also helpful since footing can be uneven and difficult.
- Take a backpack along with some food and a thermos with a warm drink. Be sure to take along some water so that you don't get dehydrated as well.
- Take a first-aid kit in case of emergency.
- Let someone know your plans to hike out to the caves and check the weather before you head out.
- Take ice-picks and know how to use them. Please pack out whatever you pack in.
- Take along a cell phone to communicate in case of emergency. It is very difficult to connect a call from the caves, however, if you do make an emergency 911 cell phone call, be sure to let the dispatcher know exactly where you are. Sometimes cell calls are picked up by towers across the lake in Minnesota.
- Pets are better left at home unless you are prepared to completely clean up after their waste and keep them on a leash. National Park Service laws and regulations will be actively enforced at the caves. These regulations include cleaning up pet waste and keeping them on a leash.
- Meyers Beach is a Recreational Fee area. Please pay your fee before heading out on the ice or trail. Please use the west side of Meyers Road for overflow parking. Traffic cones will be placed in the parking lot to block off areas for emergency vehicles.
- The ice formations at the sea caves are beautiful, but they are very large chunks of heavy ice. They can fall at anytime so try not to spend much time underneath them. Keep in mind that what you enjoy about the spectacular formations at the caves is also what other people enjoy. Please do not damage the ice or break off the pieces.
- Snowmobiling and ATV use is not permitted within ¼ mile of the mainland from Saxine Creek to Sand Point.
YOU MIGHT ALSO LIKE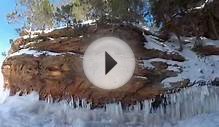 Ice Caves Lake Superior slideshow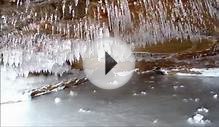 Ice Caves Lake Superior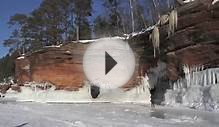 Lake Superior Ice Caves, Bayfield, Wisconsin, Meyers Beach ...
Share this Post