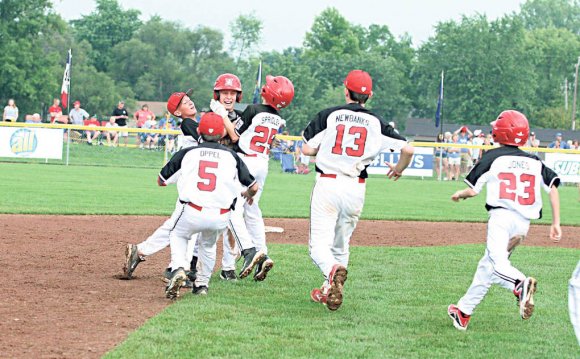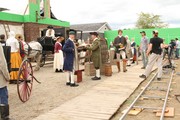 A 1770s Philadelphia street was created on Groveland Township property for filming of a scene from 'Beyond the Mask, ' which hits theaters April 6. (click for larger version)
Brandon Twp.- When the Burns family made their first movie in their township backyard more than six years ago, they ended up spending about $80, 000, used amateur actors (including themselves) and sent the film straight to dvd.
The project they recently completed is also a historical action-adventure film partially filmed in the township, but on a much grander scale— "Beyond the Mask" had a budget of $4 million, stars famous Hollywood actors including John Rhys-Davies (whoplayed Gimli in the "Lord of the Rings" franchise, as well as Sallah in "Raiders of the Lost Ark") and will hit movie theaters in all 50 states this month, including a showing on April 6 at the AMC Great Lakes Crossing in Auburn Hills as well as the Oxford 7.
"This is not your average backyard film, " said Tracey Burns, associate producer of "Beyond the Mask."
Burns not only helped produce the movies, but she and husband Andy produced four children, Aaron, Marilyn, Shannon and Nathan, that all contributed to making the film a reality.
Aaron Burns, 27, is the producer, and also co-wrote the story with his cousin, Chad Burns. Marilyn, 28, was in charge of costumes; Shannon, 23, did principal set photography, and Mason, 19, contributed with props. But bringing "Beyond the Mask" to the big screen is an endeavor that went way beyond the Burns family and the Ortonville area. While filming of the story, about an assassin that tries to redeem himself in 1775 Philadelphia, took place primarily in Oakland County, the Burns family recruited a network of supporters across the country, including many who have home schooled.
Tracey home schooled her children, and attributes their love of history, costumes, acting and overall filmmaking to this form of education, which allowed the family to travel all over the country to historical reenactments, including Gettysburg.
Early American history figures heavily into "Beyond the Mask." Tracey explains that in crafting the story in 2011, Aaron and Chad first determined what kind of message they wanted to communicate, then figured out what time period to use to communicate the message, and finally the circumstances characters would be placed in to communicate the message.
The main character, Will Reynolds (played by Andrew Cheney), is a British East India Company assassin who works for the film's antagonist, Charles Kemp (played by Rhys-Davies). When Reynolds tells his boss he wants to get out of a bad life and become a gentleman, an attempt is made on his life. Reynolds escapes and hides behind the mask, taking on a new identity as a vicar at a parsonage. He falls in love with Charlotte Holloway (played by Kara Killmer), but soon is found again by the assassins and escapes to America, finding a job at Ben Franklin's shop.
"It's a very exciting action adventure film, " said Tracey. "It goes back to a love of history. History is so exciting and what we've done in all our movies is create characters within historical settings. It's very edge of your seat. You don't have a minute to think of anything else. It will keep you guessing all the way through."
Primary filming took place from September to November 2012, with the main location property owned by Hillside Bible Church in Groveland Township off M-15 at County Line Road.
"There was an old farmhouse there we used, and there are three barns we also used, one has since been torn down, that we used for key scenes, including one as an upside down ship... Everything fit incredibly into our plan for the story, it was the perfect amount of property. In addition, we built from scratch a Philadelphia 1770s street. It had several storefronts, Ben Franklin's shop, we used foam to make the bricks, absolutely incredible what we were able to do with foam."
Other locations included the Burns' backyard, Big Fish Lake, the Scripps Mansion in Lake Orion, the First Baptist Church of Lake Orion, Meadowbrook Hall in Rochester, and the Henry Ford in Dearborn, as well as some Metamora horse farms.
The locations worked out very well, but many other components had to come together before filming even began, not only seamstresses and props, but actors and investors. "John Rhys-Davies is someone we really wanted, so sent him a script and he really liked it and so he came, " said Tracey. "The other two main characters are Hollywood actors and we had thousands of people who wanted to be in this film. We opened interviews and after four days had to cut them off, because there were too many."
The casting director interviewed actors in L.A., then sent them to Michigan. In all, there are 60 cast members and hundreds of extras, many picked by Tracey.
"We put out a small local call for extras, " she said. "We tried to keep it quiet because we had to have security around, especially when John Rhys-Davies was there. People saw things were happening, but you just can't tell them, because then you can't get work done."
When filming finally wrapped, there was still more work to be done, including 170 computer generated shots. Visual effects work took nine months, with pieces of film sent to companies in India and Nepal with instructions for them to make it snow in a scene, or to add fire.
Share this Post