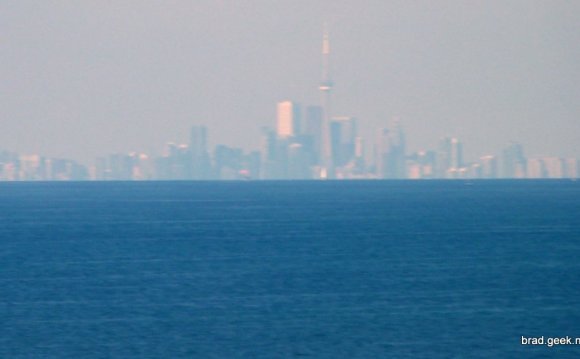 zoom
While some teens were enjoying a relaxing long weekend, Trinity Arsenault was busy breaking a record.
On Monday evening, the 14-year-old successfully completed an epic 52-km swim across Lake Ontario in less than 24 hours, becoming the youngest person to ever cross the lake in the route that Marilyn Bell took in 1954.
The St. Catharines teen entered the water at Queen's Royal Park in Niagara-on-the-Lake around 6:45 p.m. Sunday. She reached her final destination, near what's now Marilyn Bell Park in Toronto, shortly after 6 p.m.
Emerging from the frigid waters and quickly wrapped in blankets, Arsenault told CTV the swim was tough, but her mother, accompanying in a boat, helped her get through: "She knows me better than anyone so she really knew how to cheer me up during the low parts of the swim."
In addition to breaking the record for youngest swimmer across Lake Ontario, Trinity and her mom, Christine, have also set a record for first mother-daughter duo to complete the swim. "My swim was nothing like what this girl just did, " Christine, who did the swim in 2011, told CTV.
The previous record-holder, Annaleise Carr, completed the swim in 2012 but was just a couple of months older than Arsenault's 14 years, 70 days. Shaun Chisholm trained the elder Arsenault when she was preparing for the Lake Ontario swim, and acted as a swim master for the younger Arsenault this year.
Chisholm, who watched Arsenault from home, also did the swim in 2008, and said it would have been especially challenging on Monday because of the currents and water temperature.
"It looks OK but water that's in the 60s (Fahrenheit), most people scream when they get into (it). So to actually go past 20 hours, it takes unbelievable strength mentally and physically. And for a 14-year-old to be able to do that — that takes a special person."
Trinity Arsenault, 14, of St. Catharines completed her swim across Lake Ontario to become the youngest person to do so. Her mother completed the same swim three years ago.
The honour comes with one asterisk — Natalie Lambert, at age 14 years, 27 days, crossed the lake on an eastern route, ending in Kingston, Ont., though Marilyn Bell's route is the traditional and coveted path.
YOU MIGHT ALSO LIKE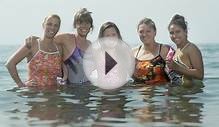 Unprecedented end-to-end Lake Ontario swim set to start ...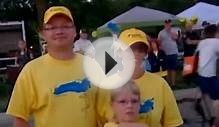 Ontario Teen Completes Charity Swim Across Lake Ontario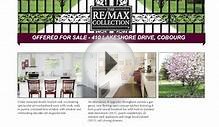 MW_ReMaxRR_410_Lakeshore_Cobourg
Share this Post