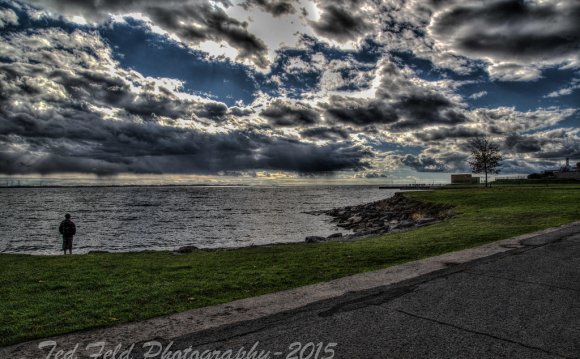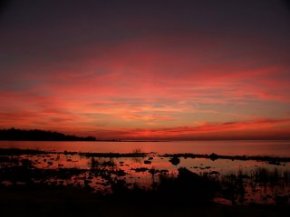 A perfect sunset is practically a spiritual experience, transforming an ordinary summer day into a thrilling evening. When the sky lights up with vibrant colours, everything just looks, tastes, and feels better. Hikes are more invigorating, Muskoka chairs on the deck are more relaxing, and cold Coronas on your favourite beachside patio are more refreshing. So if you're jonesing for some elusive sunset magic, here are ten picturesque places in Ontario that are sure to deliver.
Port Elgin
With clear skies, a dry atmosphere, and an unobstructed view of the skyline, many of the west-facing towns along the shores of Lake Huron have the perfect conditions for a breathtaking sunset. Port Elgin, a Saugeen Shores community, has been earning rave reviews for years. For the best view, take a leisurely walk along the beach out to the harbour break wall.
Hawk Cliff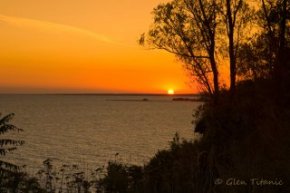 This lookout point in Port Stanley is a well-known birder hotspot that's packed with hawk enthusiasts during the day. But it's also a great vantage point for watching the sun set over Lake Erie. And if a raptor happens to soar by as the sun sinks below the horizon, it's a bonus photo-op.
Grand Bend
Another Lake Huron community, Grand Bend is a bustling beach town that balloons from 2, 000 people in the winter months to 50, 000 during the summer. It's not exactly the ideal spot for a quiet summer getaway, but it's a great place to socialize as the sun goes down, and to mingle and party against the backdrop of a world-class sunset.
Sauble Beach
This popular beach stretches for 11 kilometres, and it reigns atop many polls rating it the best freshwater beach in Canada, thanks in part to its awe-inspiring sunset views. Located in Bruce County, Sauble Beach is surrounded by unique sandbar deposits that keep the water shallow and warm. So even when temperatures dip a little in the evening, it's the perfect opportunity to enjoy a sunset swim.
Craigleith Provincial Park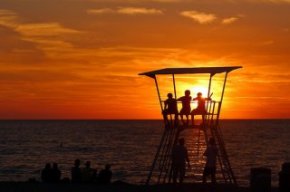 Craigleith Provincial Park in Collingwood is a small camping site that packs a big sunset punch. The fractured-shale coastline of its popular Shale Beach is sprinkled with tiny puddles that light up when the sun sets, creating a spectacular mirrored effect. For anglers, the beach is also the perfect spot to catch a late-night supper while you enjoy the view.
Goderich
The port town of Goderich has proudly christened itself the "prettiest town in Canada, " and it certainly makes a strong case for the title. Nestled on top of the bluffs overlooking Lake Huron, Goderich is a historically rich town full of traditional charm. Visitors can enjoy its renowned sunsets while strolling along the boardwalk or enjoying an evening cruise through the harbour.
Kincardine
Another community in Bruce County, Kincardine offers the same beautiful sunsets with an added opportunity for whimsical fun. Tourists can head down to Station Beach and pile onto the big blue chairs situated on the sand. Families or couples can cuddle up for a snuggly sunset experience. On Saturdays visitors are in for an extra treat: a volunteer member of a Scottish pipe band, nicknamed the Phantom Piper, climbs the lighthouse and provides musical accompaniment as the sun goes down. Another great sunset option is the South Pier, a cliff style swimming location. Enjoy the panoramic view or dive in for a sunset adrenaline rush.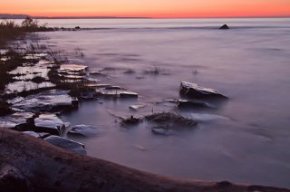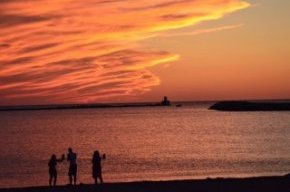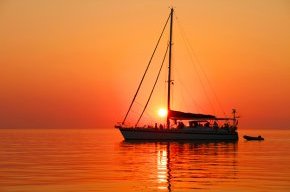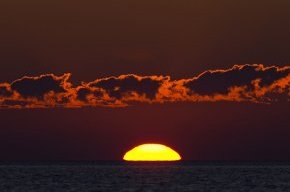 YOU MIGHT ALSO LIKE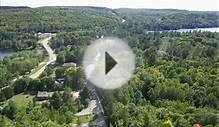 Dorset Tower View Overlooking Lake of Bays Ontario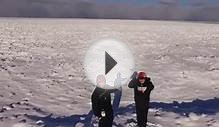 Drone View of Lake Ontario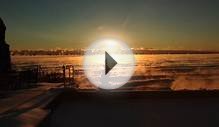 My backyard view. Lake Ontario at its finest.
Share this Post