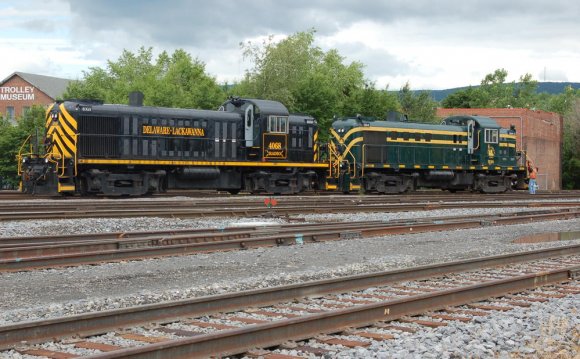 Brief Erie History:
The construction of the New York and Erie Railroad started in 1835 at Deposit, New York and the first section completed was from Piermont to Goshen, in 1841. From Goshen the line was completed to Middletown by 1843, to Port Jervis by 1848, to Binghamton in 1849, and finally to Dunkirk in 1851. The New York and Lake Erie Railroad was the longest railroad in the country and also the widest at 6′ gauge. Other roads varied with a maximum of 4'8½", standard gauge.
There were 2 reasons for the New York and Lake Erie being built at 6′ gauge. First, the Chief Engineer believed that traffic would be so dense and locomotives so heavy the 6'gauge would be necessary. Second, the charter granted by the State of New York contained a stipulation that the New York and Erie must never connect with any other railroad leading to any other State. The movement of traffic to the Port of New York would be controlled by an all New York railroad. In 1880 the entire mainline was converted to standard gauge in one day.
In 1861 the company failed and was reorganized as the Erie Railway Company. The Erie Railway Company went bankrupt and was reorganized in 1878 as the New York Lake Erie and Western Railway Company but, went into receivership and was reorganized in 1895 as the Erie Railroad Company.
In 1951, the 100 year anniversary of the first train to run over entire line from Piermont, New York to Dunkirk, New York at Lake Erie was celebrated with much fanfare. Several excellent brochures were printed and given to passengers, stockholders and mailed to vendors which documents the history of the railroad. Many of these brochures contained history of the New York and Lake Erie Railroad written by Robert E. Woodruff, President of the Erie Railroad in 1945 titled,
The Erie Railroad merged with the Delaware and Lackawanna Railroad in 1960 becoming the Erie Lackawanna Railroad. On June 22, 1972 Hurricane Agnes hit the northeast with rain and flooding causing millions of dollars of damage to the mainline between Salamanca and Binghamton, New York. The Erie Lackawanna never recovered and became part of Conrail on April 1, 1976.
YOU MIGHT ALSO LIKE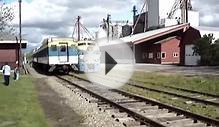 New York and Lake Erie RR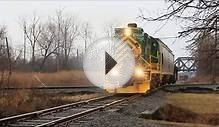 2012-02-29-BUFFALO-SOUTHERN-RAILROAD-001.wmv
Share this Post