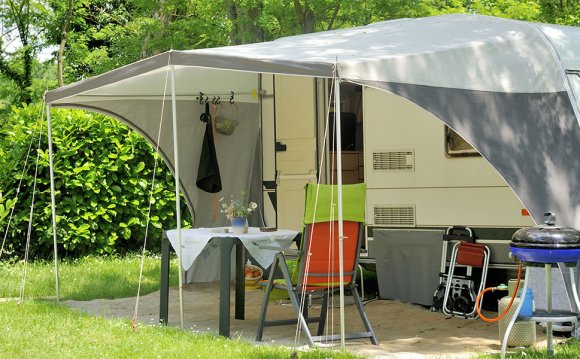 Campground & Camping Reviews Lake Superior Circle Tour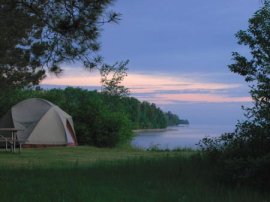 Early morning at the Bay Furnace Campground, near Munising, Michigan
For the first several years of our tours around Lake Superior we were tent camping and stayed at an occasional motel for variety or when inclement weather materially reduced the "pleasures" of tenting! Since 2005 most of our trips have been made in our newly acquired RV, a Winnebago Rialta. So we are acquainted with both styles of camping.
Below we've organized our according to seven regions around Lake Superior. Clicking on the heading will take you to the detailed links and info page for each region.
Our Lake Superior campground reviews & camping recommendations here span our experience canoe and tent camping in the wild's of Ontario, camping in the relative comforts of an established campground, and camping in, what to us - as life long tent campers - the luxury of a motor home. So we try to cover noteworthy campgrounds in all categories from more primitive to modern. Our profiled campgrounds include village parks, county parks, state parks, national parks and national forest campgrounds, and a few privately operated campgrounds.
Most of what we profile here will be parks we've personally camped at and feel comfortable recommending. A number offer scenic and recreational amenities that make them suitable for a day visit . . . even if you're not a camper or planning to stay overnight.
Links to Campground Directories & RV Camping around Lake Superior
Camping & Campgrounds Wisconsin South Shore
Ashland - Bayfield Area Campgrounds
There are several nice campgrounds in the Bayfield-Ashland area. (see Bayfield Camping Reviews here). For tent campers who want showers and flush toilets, we like the two lakeshore municipal campgrounds in Washburn, Wisconsin. Jo's favorite RV Park in the area is Ashland's Krehler Park. All sites have views of the lake, level parking pads with a decent bed of gravel, paved roads thru the park, and well-maintained. About 20 miles south of Ashland is Copper Falls State Park - nice hiking trails, swimming beach, washrooms, and campsites.
Two nice full service campgrounds exist on Madeline Island: Big Bay State Park & Big Bay Town Park.
For Campgrounds near Superior, Wisconsin . . . Amnicon Falls State Park is a nice little park with spacious campsites, attractive waterfalls and hiking trails, but the washroom facilities are rustic and no RV facilities. Those who want more amenities should look at Pattison State Park (south of Superior on Highway 35) or cross the border into Duluth and check out Indian Point or Spirit Mountain municipal campgrounds.
For Campgrounds near Hurley, Wisconsin . . .try Saxon Harbor off of Wisconsin State Highway 122 or Little Girls Point, Michigan 505 (which is what Wisconsin 122 turns into when it crosses the border at the Montreal River).
Camping & Campgrounds Minnesota North Shore
Several top notch campgrounds along the north shore are associated with the North Shore Minnesota State Parks. Their hiking trails, scenery and recreational amenities make them a popular destination. For tent camping, our favorite is Split Rock State Park. In the peak season (June - September), reservations are recommended at most of the parks south of Grand Marais. You'll have a little better luck getting into Cascade River and Judge Magney w/o reservations.
Camping the North Shore
Andy Slade offers detailed info on several public and private camping sites along Minnesota's North Shore of Lake Superior.
There are some national forest campgrounds away from the lake a few miles. Most are tent sites with vault toilets but some have adequate space for RVs willing to dry camp. Andrew Slade's book on Camping the North Shore is an excellent detailed reference for both public and private campgrounds along or near the Minnesota North Shore of Lake Superior.
YOU MIGHT ALSO LIKE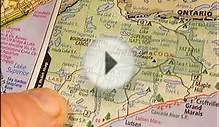 Silver Island Lake Campground review in Superior National ...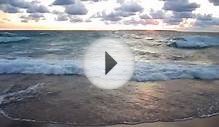 Lake Superior Provincial Park - Agawa Bay Campground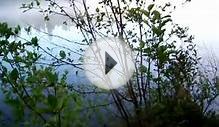 Lake Superior - Rabbit Blanket Campground
Share this Post