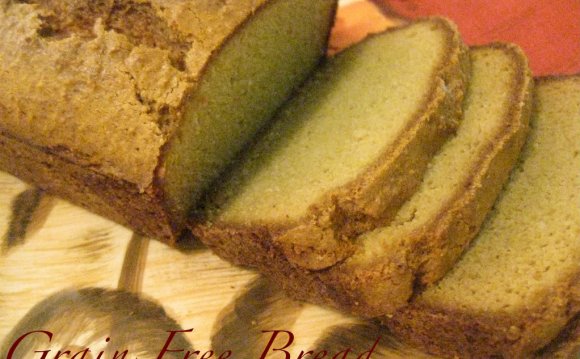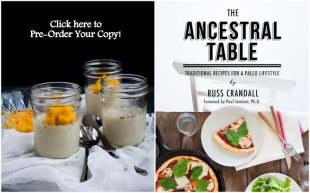 Stacy recently found out she's called "the broth lady" in the paleo-sphere. There's even the #bonebrothheals and #soupwithstacy hashtags on Instagram. That's because she LOVES bone broth! Of the nutrients in broth, the one that is the most powerful for Stacy's healing journey has been gelatin, which is concentrated with the powerful protein, collagen. Interestingly enough, when Stacy started training and was looking for a post-workout recovery protein she searched high and low for a dairy-free, egg white-free protein powder. Turns out, the perfect food was right under her nose the whole time!
She started adding gelatin to smoothies made at home of almond and coconut milk, almond or sunflower seed butter, a frozen banana, cacoa powder and collagen, which was the only "protein shake" to ever give her a sense of energy and power without messing with her digestion. No need to buy some packaged collagen protein powder, you can get the pure stuff and make delicious foods yourself with it!
Given Stacy's love of all things gelatin, it shouldn't be a surprise that one day I got an e-mail saying "Hey, can you do an epic gelatin post so people eat more of it?!" If you haven't noticed already, gelatin is all the rage, and for good reason! In this round-up, we will talk a little about why gelatin is so good for you, the differences between the types of gelatin and how they work, and provide you with 60+ recipes that utilize this awesome super-food. I got to learn a lot while writing this post, so hopefully you do too just reading it! ~Katy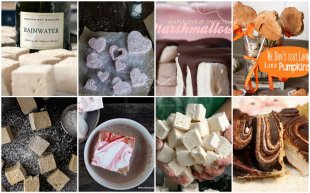 ♥♥♥
Gelatin has numerous benefits (grass-fed being our specific recommendation):
helps tighten loose skin
helps improve cellulite
helps joint recovery
supports skin, hair and nail growth
improves digestion
pure protein
promotes relaxation and a good night's sleep
can help heal your gut
Yup! I'll take all of that please! Shiny hair, better digestion, better sleep, AND it's going to improve cellulite? Heck yeah!
By now, most of our readers are familiar with our favorite savory way to receive the benefits of gelatin: homemade broth made from pastured animal bones used in soups (like the now-famous Stacy's Soup), stews and braised dishes (even I eat them).
But Now, just like we think that grass fed and pastured meats are best to consume, we therefore think that they type of gelatin you use is very important. You want to eat healthy gelatin from healthy animals. After all, you are what you eat eats. mmkay?
24 Gummy Snacks Recipes
Images are owned from the original content creator. Click on the links below for the full recipes on their site.
16 Recipes for Puddings
Want one more luscious custard recipe that uses gelatin? This Almond Panna Cotta is from the soon-to-be released The Ancestral Table by our good friend Russ of The Domestic Man. We already have our copy, and trust us – IT'S INCREDIBLE. Meet us back here next week for our full review!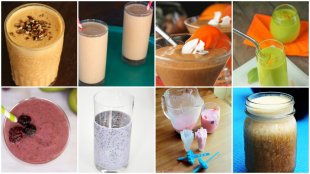 10 Recipes for Marshmallows
8 Recipes for Smoothies with Gelatin
(remember, these recipes are meant for the GREEN kind of Vital Proteins gelatin!)
Even 3 Bread Recipes with Gelatin!
As you can see, there is NO excuse not to find delicious ways to enjoy the health benefits of the healing superfood gelatin, other than that boxed brightly colored stuff at the store. If your only option is store bought and not our recommended brand, plain Knox from the grocery store will be just fine – no guilt, no dogma, no drama… just do the best you can and that is certainly better than none at all!
About Katy Galvin
Katy Galvin has written 40 post in this blog.
Katy began her Paleo journey in late 2011 after losing 65 pounds on an elimination diet and discovering that she was gluten intolerant. Eating a mostly Paleo diet has helped Katy maintain a healthy weight in addition to alleviating many chronic health problems such as migraines, heartburn, high blood sugar, depression, and acne, as well as diminish her struggles with PCOS. Katy is also a classically trained chef and a graduate of Le Cordon Bleu, and has worked for ten years in the restaurant industry. She has a newly re-designed food blog, freerangekaty.com, where she blogs real food recipes and develops her food photography and styling skills. She currently resides in Virginia Beach with her handsome husband, Ian. You can also follow her on instagram and twitter where she is known as freerangekaty.
Share this Post