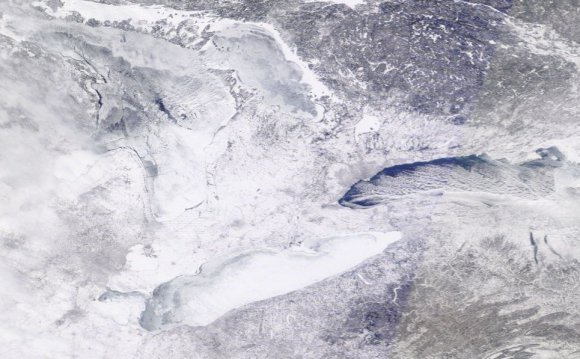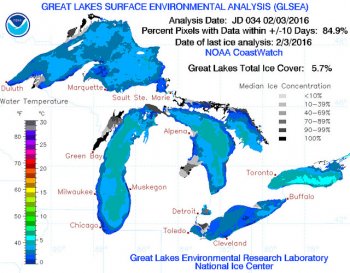 OUT OF THIS WORLD | What's Up In Climate Change - a weekly glance at the most important news about our changing world
loading video...
Scott Sutherland
Meteorologist/Science Writer
Ice coverage on the Great Lakes is near record-low levels for this time of year, and scientists are concerned about the effect this will have on wildlife species in the months to come.
Southern Ontario set some record high temperatures on Wednesday, February 3, 2016. For example, the afternoon high of 16oC at Toronto's Pearson International Airport managed to beat out all other records for the day in the city going back to 1842. It was also the highest daily temperature ever recorded for Toronto in the month of February going back 174 years.
While typical February chills were interrupted by this unusually balmy day, the Great Lakes were still feeling the effects of an already unusually warm winter, with some of the lowest ice coverage numbers on record.
Since then, although there were a few days in the latter half of January where coverage actually got up into the double-digits, as of February 3, only 5.7 per cent of the lakes were covered with ice.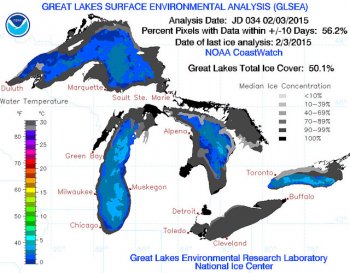 Credit: NOAA GLERL
By comparison, in 2015, ice coverage was at 50.5 per cent, while in 2014 - the year with the second highest coverage on record since 1973 - it was 71.6 per cent.
The unusually large expanse of open lake water so far this winter has been providing fuel for some pretty intense snow squalls. Looking at the current forecast for the rest of February, with a cold snap is expected going into Week 2, and then a return to mild weather later in the month, it's likely that will continue, even with a slight rebound in ice coverage that should come during that cold snap.
The overall outlook, however, doesn't give any indication that ice coverage on the Great Lakes will get anywhere near where it was during the past two years. Based on what we've seen so far, there was a brief surge up to about 15.8 per cent ice coverage on January 22, and we may see the same or slightly higher in the second week of February. If the weather does turn mild again afterward, though, there's a chance those two brief peaks will likely be it for ice coverage this year, which could land 2016 in the lowest five years on record, along with 1983 (18.1 per cent), 1998 (11.5 per cent), 2002 (9.5 per cent) and 2012 (12.9 per cent).
The Great Lakes from space
Credit: NASA Worldview
The above image presents a composite look at the Great Lakes, from January 30 to February 1. Since the open lake water promote cloud formation, the different sections of the image were chosen from a range of dates to show as little cloud coverage as possible, to reveal the largely ice-free water. By comparison, normally at this time of year, at least 30 per cent of Lake Superior, 25 per cent of Lake Michigan, around 50 per cent of Lakes Huron and Erie and roughly 15 per cent of Lake Ontario are covered with ice.
Wildlife impact
Although intense squalls off the lakes qualify as potentially dangerous weather, and are known for causing traffic nightmares at the very least, for some scientists, the conditions on the lakes and in the rivers feeding them, are a particular worry for what's to come in spring and summer this year.
YOU MIGHT ALSO LIKE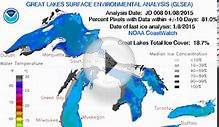 Lake Erie ice coverage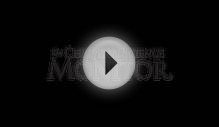 Great Lakes winter navigation test program put on ice ...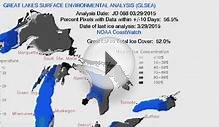 Satellite images show amazing Great Lakes ice melt over ...
Share this Post