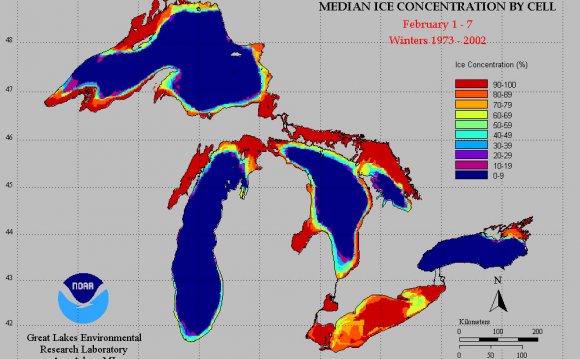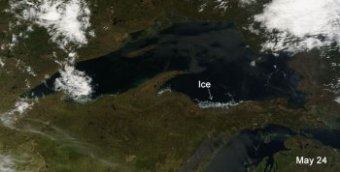 Near the southern shores of Lake Superior, fragments of ice still speckled the water's surface this Memorial Day weekend. These vestiges from the polar vortex winter presented an amazing contrast with the actual air temperature – which surged into the 80s in some areas just a few miles inland. Heat records were set in a region with record-setting ice extent – quite the incongruity.
(National Weather Service)
Duluth, Minnesota – where ragged sheets of ice can still be seen from it shores – matched record high temperatures of 84 and 85 degrees Saturday and Monday, established in 1978 and 1875, respectively. Meanwhile, Environment Canada had hoisted a "special ice warning" for "rotten thick lake ice near Duluth and east of the Apostle Islands." A similar warning was in effect for the eastern part of Lake Superior, around Marquette.
(NOAA)
As of Memorial Day, ice covered 4.5 percent of Lake Superior according to NOAA, and 1.7 percent of the Great Lakes overall (though Superior is the only lake with remaining ice). The recent Great Lakes ice cover is unrivaled in records dating back to the early 1970s.
Ice cover the Great Lakes has been way above normal and, at times record-setting, for months.
In early March this year, the Great Lakes ice extent reached 94.19%, the second most on record for any month, dating back to 1973 in NOAA's dataset, and most on record so late in the season. In late April, ice still covered nearly one-third of the Great Lakes, the most on record by a large margin so late into spring.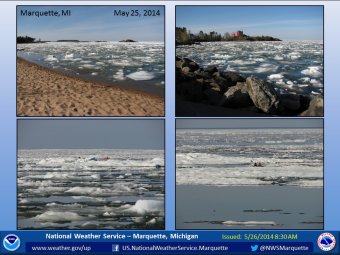 "Every day since early March has been the highest on record, " says Brian Jackson, an analyst at NOAA's National Ice Center.
When will the ice finally disappear?
"It's looking sunny and warm up there for the next week, " says Jackson. "It's starting to break up already but there's still a good bit to melt, it'll probably last until the first few days of June…"
Here are some icy hot photos of this weekend's unusual scene from Twitter:
Here is another incredible photo of the ice on Lake Superior… with air temps in 80s. (Photo: Melissa Ellis) #ice
— Matt Rudkin WSBT (@MattRudkinWSBT)
"@capitalweather: Astonishing scenes from Lake Superior: nephew last weekend in MQT.
— Carrie Fitzgerald (@carriemf)
Thx to @kburnsFOX47 for sharing this photo of sunbathers in Duluth…there is still ice on L. Superior! #mnwx #wiwx
— Karin Swanson (@KarinSwansonWx)
Well, at least the sand is warm. #Ice on Lake Superior shore near #Marquette #Michigan via
— Susie Martin Wx (@smartinWNTV)
Ice on Lake Superior plus a record high of 84° in Duluth on Saturday. Photo by Kim Kosmatka @ABC7News @capitalweather
— Steve Rudin ABC7 (@SteveRudinABC7)
Memorial Day stroll to check out the Ice on Lake Superior in Duluth, MN. #mnwx
— Brad Panovich (@wxbrad) — Steve Walker (@1stevewalker)
YOU MIGHT ALSO LIKE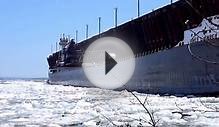 Ice on Lake Superior - May 31, 2014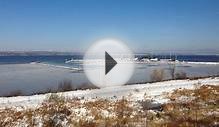 Ice Visible on Lake Superior Weeks Ahead of Schedule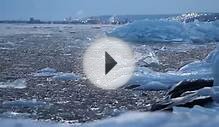 Ice on Lake Superior
Share this Post