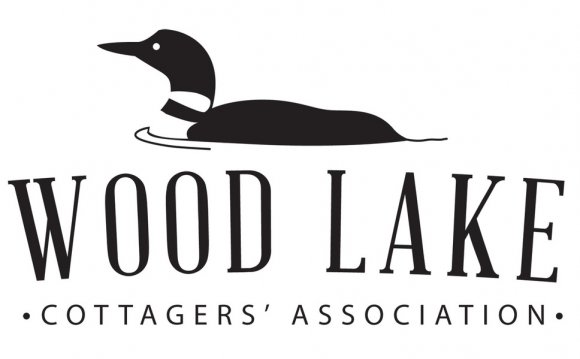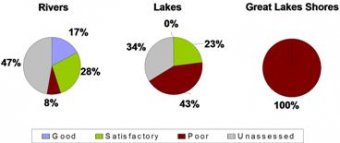 The Lake Ontario and Minor Tributaries Watershed is comprised of the smaller drainage that lie between the larger rivers that empty into Lake Ontario. The larger rivers include the Niagara, Genesee, Oswego and Black River which are discussed as separate watersheds. The Lake Ontario Minor Tribs Watershed is divided into western, central and eastern sections that stretch all along the Lake Ontario Shoreline.
Location: Northwestern New York State
Most of Jefferson and Orleans Counties,
Much of Oswego, Wayne, Monroe and Niagara Counties, and
Portions of northern Cayuga and western Lewis Counties.
Size: 2, 460 square miles of land area within New York State, excluding the larger/separate watersheds.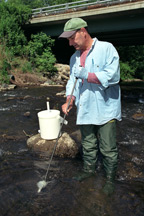 Rivers and Streams: 5, 891 miles of freshwater rivers and streams. Major tributary watersheds to Lake Ontario (excluding the Niagara, Genesee, Oswego and Black Rivers, which are addressed as separate watersheds) include:
Salmon River (639 river miles)
Oak Orchard Creek (523 miles)
Irondequoit Creek (316 miles)
Sandy Creek (303 miles)
Lakes, Ponds (Embayments) and Reservoirs: 60 significant freshwater lakes, ponds, and reservoirs (18, 042 acres), including:
Salmon River Reservoir (3, 380 acres)
Sodus Bay (3, 360 acres)
North Pond (2, 400 acres)
Irondequoit Bay (1, 720 acres)
Perch Lake (1, 480 acres)
Great Lakes Shoreline: 326 miles of Great Lakes (Lake Ontario) shoreline.
Water Quality in The Lake Ontario and Minor Tribs Watershed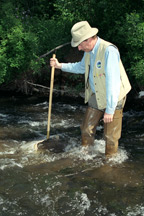 In the Lake Ontario and Minor Tribs Watershed, about 53% of river/stream miles, 66% of lake, pond and reservoir acres and 100% of Lake Ontario shore miles have been assessed (see Assessment Report).
Good water quality: Fully supports designated activities and uses
Satisfactory:
Fully supports designated activities, but with minor impacts
Poor (Impaired): does not support designated activities and uses
Unassessed:
Insufficient data available
Water quality in the Lake Ontario and Minor Tribs Watershed is largely a reflection of water quality in Lake Ontario itself and the nearshore waters and embayments of the lake. The legacy of toxics discharges to the Lake and its tributaries result in fish consumption advisories for numerous species. While phosphorus levels in the open lake have declined over the years, nutrients and resulting aquatic plant growth continues to impact recreational uses in nearshore waters. Legacy industrial discharges are being remediated in Great Lakes Program Areas of Concern in Oswego, Rochester and Eighteenmile Creek.
Major water quality concerns in the watershed are:
Invasive and Other Aquatic Plant Growth which discourage recreational uses
Legacy Industrial Discharges in Areas of Concern currently being remediated
Great Lakes Management Plans to restore uses in Lake Erie
About Water Quality in New York State
Water Chemistry Sampling
Each waterbody in NYS has been assigned a classification, which reflects the designated "best uses" of the waterbody. These best uses typically include the ability to support fish and aquatic wildlife, recreational uses (fishing, boating) and, for some waters, public bathing, drinking water use or shellfishing. Water quality is considered to be good if the waters support their best uses. NYSDEC routinely monitors and assesses water quality throughout the state and publishes detailed reports of these findings. For more information on these monitoring and assessment programs, see Water Quality Monitoring, Assessment and Planning.
Biological Kick Sampling
YOU MIGHT ALSO LIKE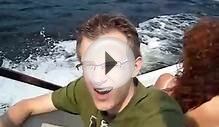 bobs lake ontario canada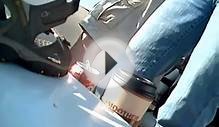 triple on lake ontario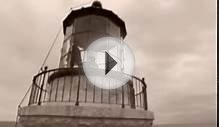 Ontario Lighthouse Tours
Share this Post