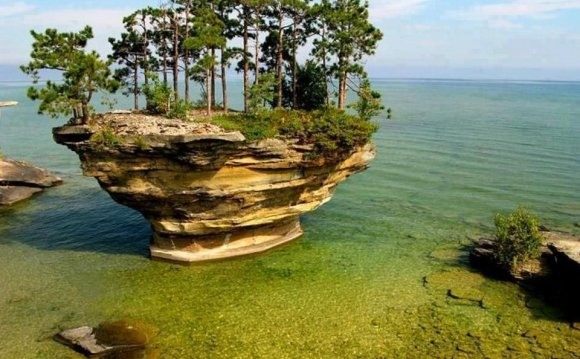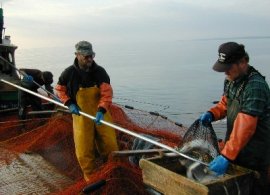 Since 2001, two commercial operations have been operating in central Lake Huron and DNR has been working to avoid conflicts between user groups through communication. These two commercial fisheries usually fish a total of 17 trap nets between North Point of Thunder Bay and the Greenbush area south of Harrisville. These commercial fishers report their net locations with the DNR and we post them here (pdf of coordinates) to assist anglers and boaters in avoiding these nets. Fishers change their net locations often and this map is not updated in real time (some lag before updating) so anglers and boaters should not depend only on this map of net positions but should watch for buoys and markers.
Each state-licensed commercial trapnet is marked with three staff buoys and black or orange flags. In addition to staff buoys, nets are also marked with several red, yellow, white, or orange floats that are at least two gallons in size. The nets are set deep enough to allow for recreational and commercial boat traffic to move freely at the surface but fishermen should be mindful of the net location to avoid loss of fishing gear. There are also trap nets in Saginaw Bay and Native American fisher trapnets north of Thunder Bay permitted under the 1836 Consent Decree. These nets are not depicted on this map.
The catch from trapnets is live when harvested and non- target species such as trout and salmon are released.
Why trap nets?
In the late 1960s, the Michigan Natural Resources Commission issued orders that banned large-mesh gill nets and required replacement of gill nets with impoundment gear (trap nets). The intent of the ban was to "encourage conversion to the more selective, highly efficient, less damaging, trap nets, which were considered to be compatible with the goals of lake trout restoration" (Rybicki and Schneeberger, Recent history and management of the State-licensed commercial fishery for lake whitefish in the Michigan Waters of Lake Michigan. Michigan DNR, Fisheries Research Report No.1960, 1990). New York, Ohio, and Indiana banned the use of gill nets in 1994. Ontario and most tribal fishing authorities continue to authorize gill nets in their commercial fisheries.
Gill nets, as their name implies, catch fish by entangling them in mesh, often in the gill area. Fish caught by the gills may suffocate or sustain irreversible damage to the gill arches including bleeding from the gills. At times, the fish are boxed with the net and removed from the mesh later; in these cases, mortality of the incidental (non-target) catch approaches 100%. Trap nets work like aquatic corrals, capturing fish in large holding pens called "pots". Trap nets cause much lower mortality of the incidental catch and are efficient in the capture of lake whitefish - the principal target of Lake Huron's commercial fishery. Because the fish are live when taken from trap nets, nontarget fish such as trout and salmon can be safely released. Whitefish from trap nets (because they are fresher) usually sell for more than gill-net-caught whitefish.
Michigan's State-licensed commercial fisheries on Lake Huron are required to release all trout, salmon, and walleyes. In Thunder Bay virtually all the harvest is composed of lake whitefish. A few carp, burbot, and channel catfish are occasionally also harvested. The whitefish catch can be purchased at a variety of stores and restaurants in the Alpena area.
YOU MIGHT ALSO LIKE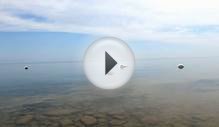 Lake Huron at Forestville Michigan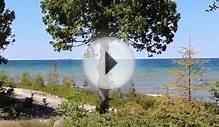 Lake Huron - Michigan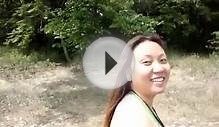 PorK Huron lake Michigan
Share this Post