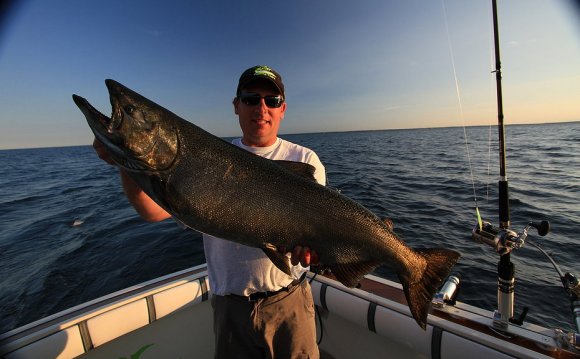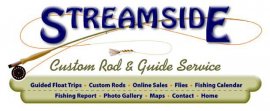 Flyfishing the Great Lakes in Michigan along the shoreline & river mouths of Lake Huron and Lake Michigan - 2005 & 2006.
November 2005 - A huge Lake Huron Brown Trout inhaling a chartreuse/white deceiver. This is prime time for fishing the shoreline of Lake Huron.
November 2005 - Cold weather in the late fall brings huge numbers of baitfish in close along the shoreline and into harbors in Lake Huron and Lake Michigan. The big trout follow the food in close and are very aggressive!
Oct. 5th - Tom Buhr with a Lake Trout out in Tawas Bay in Lake Huron. Big trout was caught in about 8' of water just off the edge of first drop off. Fast action 8wt rod is the perfect rod for this fishing. The fly line that was being used was a 24' 200 grain Rio Sink Tip and the fly was one of our Great Lakes Alewive patterns with is pictured below. Tom also hooked the first big Lake Brown of the fall, out of my boat, but hook popped out. A few browns are starting to move around shoreline right now but not in big numbers. Typically by mid October Lake Browns are along the shoreline and river mouths of Lake Huron in good numbers.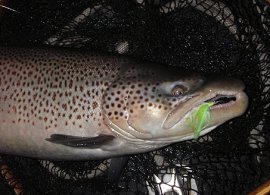 Oct. 4th - Here is a huge Lake Huron Smallmouth Bass. Had good fishing this morning! Caught three big Smallies and a couple of smaller Lake Trout in Hammond Bay in Northern Lake Huron. Saw a few big browns near the boat but no hook ups on them this morning. For those looking for big lake browns typically best action starts in mid October and last till mid December. This morning all fish were on the same fly - our Great Lakes Alewive pattern.
Sept. 19th - Fly fishing the shoreline of Platte Bay right near the mouth of the river has been excellent the past couple of days. Coho, Chinook and even a few steelhead are being caught. These fish are very aggressive and will smash streamers. Deceivers, Fin Clip, Conrad Sculpin and Half & Half have been our best producers of late. In low light these same patterns with glow in dark Flashabou added to them has really worked well.
Sept. 14th - Tom Olenczuk with a fresh Chinook Salmon that was caught while streamer fly fishing in Betsie Lake right near the mouth of the Betsie River. Excellent fishing this evening with big numbers of very aggressive salmon - 5 salmon landed and lost a few others. Tom and Jim fished with me yesterday evening and this morning and 10 Salmon were brought to the net in about 8 hours of fishing!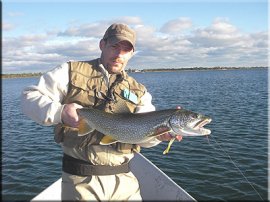 Sept. 14th - Here one of the big Chinooks making a very long run. The fight out of these fish, fresh out of Lake Michigan, is very amazing!
Sept. 13th - Here is Tom with another salmon landed today. Hot fly was a Chartreuse and White Conrad Sculpin. A slow strip was the key today on the retrieve. Excellent morning fishing even in bright sun today!
Sept. 13th - Excellent streamer fishing this evening! We landed 5 big King Salmon and lost a few other in about 3 hours of fishing.
Sept. 13th - Tom and Jim with a Betsie Lake Chinook Salmon. Jim had the hot rod this evening landing 3 of these big Kings.
Sept 12th - A beautiful King salmon caught streamer fishing in Betsie Lake right near Lake Michigan. The last few evening this fishing has been excellent! Been hitting 3 to 6 fish each night this week. Top flies have been a glow in dark Half & Half (pictured below), black Conrad Sculpin, and our Great Lakes Deceiver in Chart/White. The new Rio OutBound lines are my new favorites for open water streamer fishing in the Great Lakes. The 8wt. type 3 sinking line has been working just perfect of late.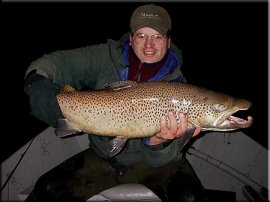 Here is a pattern (glow half & half) that has been working in low light or dark conditions for Lake Michigan salmon.
August 22nd - Here is a big King Salmon out in Betsie Lake just up from Lake Michigan. This is a great time of year to streamer fish these big salmon and Betsie Lake is the perfect place! Right now there are good numbers of fish right around the mouth and these fish are very aggressive. This fish hit one our 6" Great Lake Deceivers in Chart/White.
July 14th - The St. Mary's River right at beginning of the Rapids. There are a few Atlantic salmon around right now but fishing has been a little slow of late. Our best luck came fishing smelt patterns on sink tips down stream from the Rapids.
July 4th - Tom Olenczuk with a big Lake Michigan smallie from Grand Traverse Bay.
June 17th - David Frizzell with a big carp caught fly fishing in Grand Traverse Bay. Carp are feeding in the shallow flats this time of year and can be caught fly fishing.
May 25th - Northern Lake Huron has lots of great places to fly fish for trophy size Smallmouth Bass. Here is a photo of one of my favorite places in Hammond Bay. This is perfect structure for early summer smallies. Lots of rock and a nice drop off.
May 22nd - Had a real nice evening fly fishing the shoreline of Lake Huron. This time of year there are so many places to fly fish in Michigan.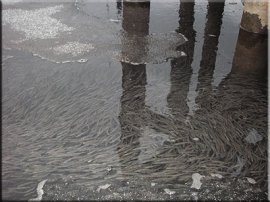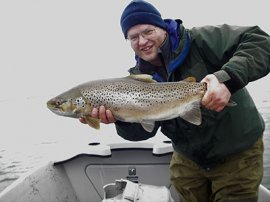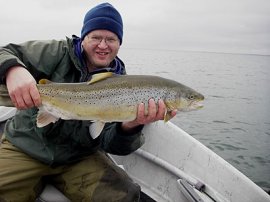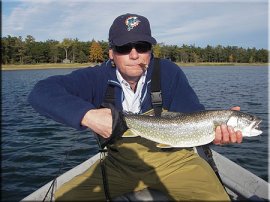 YOU MIGHT ALSO LIKE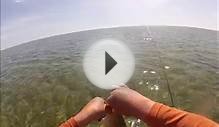 Lake Huron Smallmouth Fly Fishing - Tawas Bay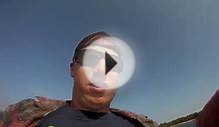 Go Pro: Lake Huron Pike Fishing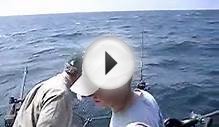 Lake Huron Fishing
Share this Post