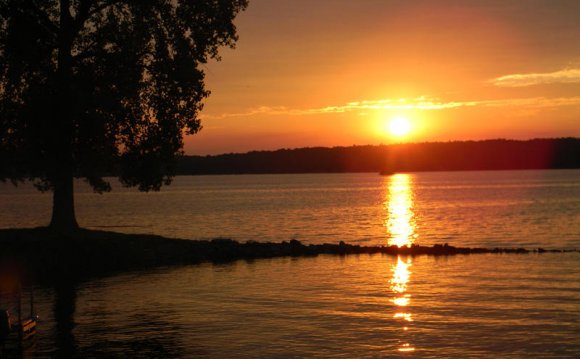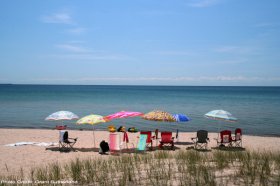 This summer has been fantastic for swimmers. And nothing beats a cool dip on a hot summer day so we asked park staff where they think the best swimming is in Ontario:
Southern Ontario….
From Jake at Samuel de Champlain Provincial Park. In terms of swimming holes we have a great hidden oasis just east of the Campion Rapids on the Mattawa. Its canoe/boat in only. It isn't so much a swimming spot (the water is icy, icy cold) but the surrounding river feels almost hot after being in the spring water. The location is called "Simpson Falls" or alternately the "Hot Springs" and "Devil's Hot Tub" by the locals.
Wasaga Beach Provincial Park is on Georgian Bay on Lake Huron and Ontario's best known beach with 14 kilometres of sand and great swimming. It is one of several Ontario beach parks that are Blue Flag-recommended.
From Tim at Awenda Provincial Park. A very special feature at Awenda is the park's 5.5 kilometres of natural shoreline in the heart of cottage country. Awenda has sand area as well as a rugged element. What's striking about its beach vistas is that you can appreciate what this part of Georgian Bay looked like 500 years ago. There are no real visible cottages, so with a little imagination, what you see is what early explorers like Etienne Brulé and Samuel de Champlain would have seen when they landed their canoes here long ago.
Close to Toronto….
From Savanna at Sibbald Point Provincial Park…. Sibbald has a sandy beach, good for kids. It's shallow so kids can walk out. Kids fish off the boat launch. We have perch, bass, and sunfish and Tackleshare lends fishing tackle for kids to use. Our PFD Program lends families lifejackets. Sibbald Point Provincial Park receives some of the highest day use visitation of all the provincial parks. A good time to visit is mid-week when the park is less busy.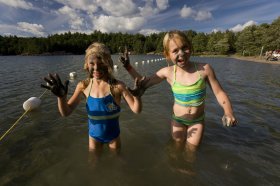 Northwestern Ontario….
Blue Lake Provincial Park has crystal clear water, soothing sand, hot sun with nearby shade, 150 year old Red Pines…need I say more? (Makes me think of Mexico when I go there…)
From Jeff at Quetico Provincial Park…
Neys Provincial Park is the best! When Lake Superior's waves are big, you can float or surf for hours. The beach is perfect with almost no rocks and very little slope into the lake. Picture yourself floating in the bay, you look to one side and see nothing but water framed on the side by naked surf rocks and large hills. You look to the other side and see the historic CPR rail line and even bigger hills that seem to go on forever.
The Pines on Pickerel Lake in Quetico Provincial Park has a great hike into a small but very nice beach. You are surrounded by large pines, and can look west down Pickerel Lake for miles. Water is a good depth for swimming and is clean and warm. The fishing is also world-class.
Northeastern Ontario….
Halfway Lake Provincial Park has a great family beach – shallow for a long way out, fine brown sand like sugar, one beach has a buoy line, both beaches face south, but there's lots of shade on shore as well (a southwest wind will blow all the warmer water into shore at the beach).
Pancake Bay Provincial Park has the largest sand beach on Lake Superior and brilliant blue water. The beach at nearby Batchawana Bay Provincial Park is more sheltered and often a bit warmer during windy days.
Lake Superior Provincial Park has another fantastic sand beach on Lake Superior… fine white sand. Also has a neat little spot called Bathtub Island, just off the mouth of the Sand River – rainwater and wavewash trapped in a bedrock pool on the little rock island warm up on sunny days, making the walk through the "cool" waters of Superior worthwhile.
Burnt Rock Pool on the Agawa River can be a good place for a cool dip while hiking the Towab Trail in Lake Superior Provincial Park. This pool is surrounded by tall pines and the towering cliffs of the Agawa Valley.
YOU MIGHT ALSO LIKE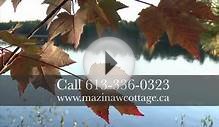 Mazinaw Lake Cottage for Rent - Near Bon Echo Park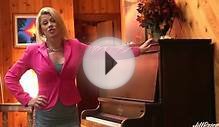 Jill Price | Broker | Bay Lake Cottage/Home for Sale in ...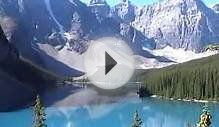 Moraine Lake, Canadian Rockies
Share this Post