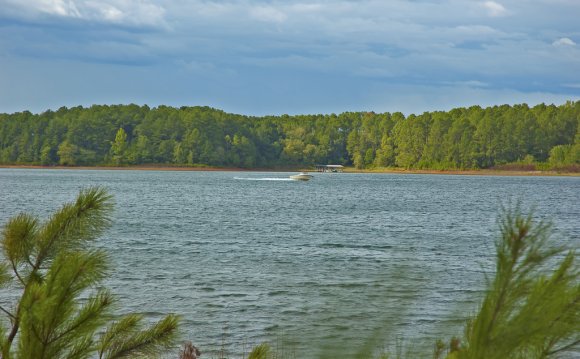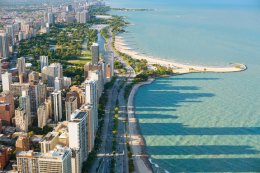 Reference:
Lake Michigan is the third largest of the Great Lakes (when measured by water surface) and the only Great Lake located entirely in the United States. Its name is derived from the Ojibwa Indian word mishigami, meaning large lake.
Lake Michigan's water surface is 22, 300 square miles (57, 800 square kilometers). It is the second largest of the Great Lakes by volume (1, 180 cubic miles / 4, 920 cubic km). Only Lake Superior is bigger.
Lake Michigan touches Indiana, Illinois, Michigan and Wisconsin. Chicago is at the lake's southernmost point, and Milwaukee is located on the southwestern shore of the lake.
The Mackinac Bridge connects Michigan's Upper and Lower Peninsulas at the straits between Lake Huron and Lake Michigan.
Credit: lphoto | Shutterstock
On the northern end, Lake Michigan and Lake Huron are connected by the Straits of Mackinac, and technically, these two bodies of water are one lake.
Formation, discovery and history
The formation that is recognized as Lake Michigan today began about 1.2 billion years ago when two tectonic plates were ripped apart, creating the Mid-Continent Rift.
French explorer Samuel de Champlain sent his underling Jean Nicolett to find the "Northwest Passage" but he ended up discovering Lake Michigan around 1634. In 1679, Nicolette explored the southernmost part of the lake where modern-day Chicago is.
Like all of the Great Lakes, Lake Michigan has had its share of shipwrecks. One of the most famous maritime disasters was the sinking of the Westmoreland, a steamer that sank on Dec. 7, 1854. The wreck was discovered by a diver on July 7, 2010, 155 years after the accident, in excellent condition.
Water temperature
Water temperatures on Lake Michigan make it to the 60s in July and August and can sometimes make it into the 70s when air temperatures have been in the 90s for a number of continuous days.
The water of Lake Michigan has an unusual circulatory pattern — it resembles the traffic flow in a suburban cul-de-sac — and moves very slowly. Winds and resulting waves keep Lake Michigan from freezing over, but it has been 90 percent frozen on a number of occasions. Ocean-like swells, especially during the winter, can result in a drastic temperature changes along the coast, shoreline erosion and difficult navigation.
The lake's average water depth is 279 feet (85 meters) and its maximum depth is 925 feet (282 meters).
Life on Lake Michigan
Marshes, tallgrass prairies, savannas, forests and sand dunes that can reach several hundred feet, all provide excellent habitats for all types of wildlife on Lake Michigan.
Trout, salmon, walleye, and smallmouth bass fisheries are prevalent on the lake. The lake is also home to crawfish, freshwater sponges and sea lamprey, a metallic violet species of eel.
The lake is also home to a wide range of bird populations, including water birds such as ducks, geese and swans, as well as crows, robins and bald eagles. Predatory birds such as hawks and vultures are also prevalent on the lake, due to the wealth of wildlife to feast upon.
The pebble-shaped Petoskey stone, which is a fossilized coral, is unique to the northern Michigan shores of Lake Michigan and is the state stone.
Author Bio
Kim Ann Zimmermann
Kim Ann Zimmermann is a contributor to Live Science. She holds a bachelor's degree in communications from Glassboro State College.
Apostille from anywhere. Apostille Services.
Share this Post