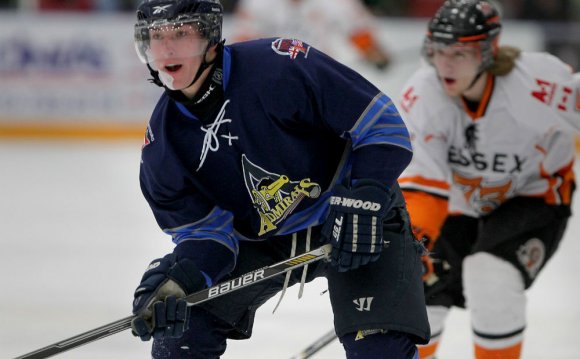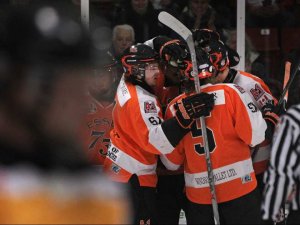 Essex 73's head coach Gil Langlois insists his team is as hungry as ever to win.
After its fifth straight Great Lakes Junior C Hockey League regular-season title, the club is aiming for a fifth consecutive playoff title and hopes to defend its All-Ontario Schmalz Cup crown.
"Our guys that were here last year, their goal is to get back, " Langlois said. "The older guys, they know it could be their last shot and the young guys have never been there. I think the hunger is still there."
The 73's actually finished with a better record this season than during its provincial-title campaign last year, but Langlois said wins and losses in the regular season were never the focus.
"Our goal was to get home-ice advantage, " Langlois said. "I didn't care about win-loss record. I just wanted home ice through the playoffs and we got that and I'm happy."
The playoff road begins Tuesday when league quarterfinal play gets underway. Here's a look at the matchups:
The best-of-seven series opens Tuesday in Essex at 7 p.m. before shifting back to Alvinston for Game 2 on Friday. The Flyers actually beat Essex 6-5 in overtime back on Oct. 27, but the 73's took the other four meetings and hit double figures in two of those games.
"They're a hard-working team with good goaltending and they're tough to play in own barn, " Langlois said of the Flyers.
Not only is Essex the league's top-scoring team, but it's also the top defensive team. 73's goalie Trevor Wheaton's 1.31 goals-against average in 30 games set a new club record to better the old mark of 1.43 set by Brendan Robitaille in 2009.
Defenceman Brendan McGhee likely will miss the series with a concussion, but you can expect Langlois to have his team take a very businesslike approach against the Flyers.
"I know everyone thinks it's one versus eight, but they're tough team and can score goals, " Langlois said. "We have to put those last few games against them out of our minds and get back to grind-out, playoff hockey."
The best-of-seven series opens Wednesday in Amherstburg at 7:30 p.m. before shifting to Wheatley on Monday for Game 2 at 7:30 p.m.
The Admirals took the first four meetings of the season with the Sharks and needed just a single point in the final game of the regular season Sunday against Wheatley to lock up the No. 2 seed and instead fell 4-1.
"I'm a firm believer that whenever you have a chance to put a team away you do it, " Admirals head coach Paul Bortignon said. "We had a chance to lock up second place and set up a matchup with Dresden and it seemed Wheatley was a team looking to prove they wanted to play us and not Blenheim and it showed."
Dave Wiper took over as head coach of the Sharks in December and the club closed the season with a 10-5-1-0 record.
"We're so excited to finish over .500, " Wiper said. "It's been a great experience and we can't wait to get the (playoff) ball rolling."
Amherstburg, which went to last year's final, had the league's No. 2 offence and defence behind Essex, but Bortignon is hoping his team can improve its league-worst rating on the power play of 13.6%.
"Essex was the most consistent, but if you look at teams two to eight, not much separates them, " Bortignon said. "We need to find ways to keep the pace up. Playoffs can be short lived or a long haul. You have to find ways to stay in and give yourself a chance in third period."
The Sharks counter with league scoring leader Brett Bowman, who had 21 goals and 62 points in 38 games, along with Nick Tavoieri-Essex, who had 21 goals in 28 games after coming over in a trade with Lakeshore.
"We have 12 kids that have not played junior hockey, but boy are they energetic, " Wiper said. "They have a no-quit attitude and it's fun to be around."
The best-of-seven series opens Saturday in Mooretown before shifting back to Lakeshore next Tuesday for a 7:30 p.m. start. In five meetings with the Flags, the Canadiens took three of the games, but three of the contests were decided in overtime.
"We're still a work in progress, " Solcz said. "We've made a lot of strides, but we haven't been healthy and I anticipate that, by Saturday, we'll have our full lineup."
The Canadiens have had four different goalies this season, but hope to have Colin Tetreault (groin) back in time for Saturday's game.
As well, Logan Percy, who has appeared in just eight games, and Blake Rutckyj have both missed time with knee problems and should be ready to go.
"(The Flags) are a good team, " Solcz said. "They have a veteran goalie and they work hard and they're deep one to 20.
"It'll be a good series. They've been good games all year and all the games will be close. We know if we're going to make a run at this thing, it's not going to be easy."
The best-of-seven series opens Tuesday in Bleneheim before shifting back to Dresden for Game 2 on Friday.
Share this Post