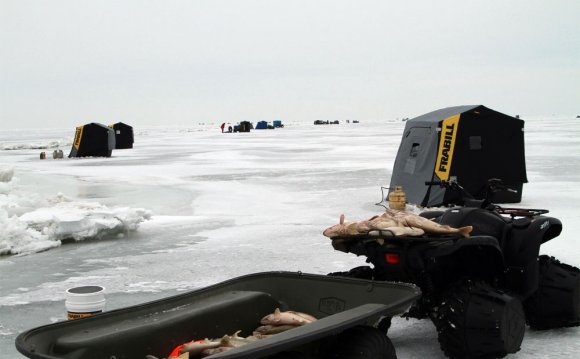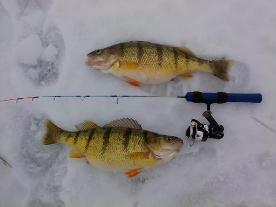 Creek levels came way up following mid-week rains, which has blown out the ice. Today, all steelhead streams remain at least a little high and stained. All streams except Cattaraugus Creek should transition into good fishing shape through the weekend. Look for fresh steelhead to have moved up into the creeks during this high water event. Productive wintertime steelhead baits include egg sacs, egg pattern flies, trout bead and small hair jigs tipped with a waxworm (fished under a float). In cold water conditions, it is best to keep drifted offerings slow and deep, as steelhead are more lethargic and hugging the bottom. It is also good to concentrate efforts during the warmest part of the day. For those new to steelhead fishing, see the Steelhead Fishing in Lake Erie Tributaries page for information on steelhead fishing equipment, fishing locations and links to stream maps.
Upper Niagara River
Fishing in the upper river is on hold due to stained water and pack ice near shore. There is no safe ice to report in the upper river harbors.
Ice Fishing
Mild temperatures and rain has deteriorated ice surfaces in the region. Be extremely cautious if you go ice fishing this weekend, as some waters that previously had good ice are now unsafe. Always remember that ice thickness can vary greatly on the same body of water, especially if there are springs, stream inlets or heavy snow cover. Before you head out onto the ice this winter, remember that a minimum of 3 to 4 inches of solid ice (blue or black, not white) is the general rule for safety, for individuals on foot. Five inches of solid ice is more suitable for small groups fishing together. Drilling holes or tapping with a spud bar to check ice thickness is recommended on your way out, or when moving around. Safety ice picks, boot cleats, throw rope and a floatation device are recommended safety supplies. Use good judgment and fish with a friend when possible. Those new to ice fishing can check the Ice Fishing Basics page for more information. See the Lake Contour Maps page for maps organized by county.
New ice fishing regulations are in effect. Anglers are now allowed a total of 7 "ice fishing lines" for ice fishing, in any combination. An "ice fishing line" means any device used for fishing through the ice, including but not limited to jigging rod, hand line, tip-up, tip-down, etc. Name and address no longer required on ice fishing devices.
Chautauqua Lake
Ice thickness is very inconsistent, with less than safe thickness in many spots. Ice fishing is currently not recommended.
YOU MIGHT ALSO LIKE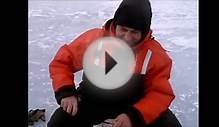 Ice Fishing on Lake Erie Water Front Park Crystal Beach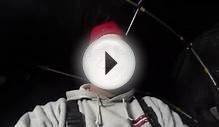 Ice Fishing Lake Erie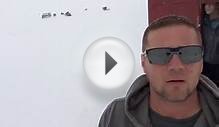 Ice Fishing On Lake Erie! Or Not!
Share this Post