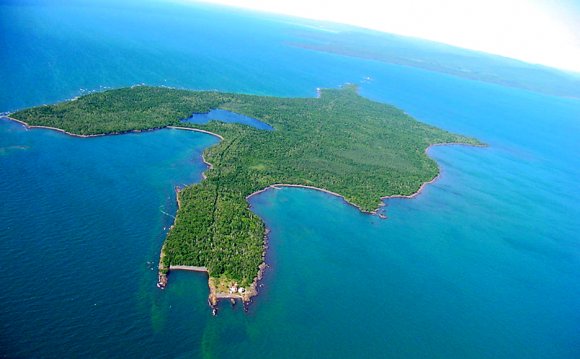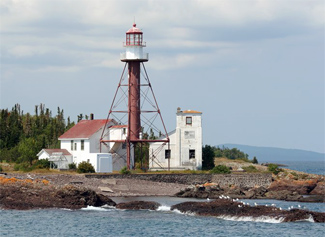 Description:Situated just three miles off the tip of the Keweenaw Peninsula, Manitou Island is one of several locations that carry the Algonquian name for spirit. The three-mile-long and one-mile-wide island has its own lake, Perch Lake, and was a natural place for a lighthouse to warn mariners of their approach to land.
After lighthouses had been built on Lake Superior at Whitefish Point and Copper Harbor, Congress appropriated $7, 500 on March 3, 1849 for a lighthouse on the eastern tip of Manitou Island. During the warmer months of 1849, a sixty-foot-tall stone tower was built on the island and equipped with an array of thirteen lamps set in fourteen-inch reflectors to produce a fixed white light.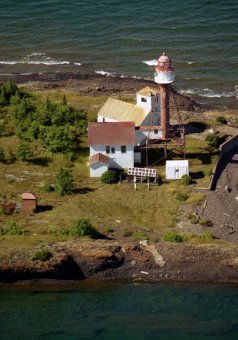 Angus McLeod Smith was appointed the light's first keeper on September 4, 1849 and served just over seven years on the island.
Henry B. Miller, Superintendent and Inspector of Lights on the Great Lakes visited Manitou Island on July 29, 1850 and included the following in his report to his superior: Everything here is in good order. The tower is, in my opinion, a good one, and is all complete, with the exception of the spindle or lamp frame in the tower, which is missing. The contractor was with me on the island, and promised to have this put up forthwith, which will make everything complete. Conduct of keeper good. In 1855, Keeper Smith received an annual salary of 0, while his wife Lydia earned 0 as his assistant.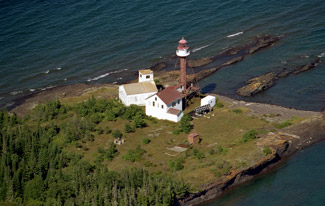 In 1856, a fourth-order Fresnel lens was installed in Manitou Island, increasing the power of its light and changing its characteristic from fixed white to a white flash every ninety seconds. Three years later, the Lighthouse Board requested $45, 000 to replace the stone towers at Manitou Island, Whitefish Point, and DeTour Point, all of which were just over a decade old, with iron-pile towers. Contracts for the towers were made in 1860, and the new lighthouses were erected at the three stations in 1861.
The second Manitou Island Lighthouse stands seventy-eight feet tall and consists of four levels of iron braces around a central, cylindrical shaft that runs from the top of the first level to the watchroom, situated just below the lantern room. The braces of the first level are vertical and placed at the corners of a twenty-six-foot square, while the upper three levels slope inward. A covered walkway, situated seventeen-and-a-half feet above the ground, links the bottom of the tower's stairwell to the second floor of the frame, keepers' dwelling. While a third-order Henry-Lepaute Fresnel lens with three flash panels was installed in the new lighthouse, the signature of the light remained a white flash every ninety seconds.
On July 24, 1873, the steamer Haze brought James and Mary Corgan to Manitou Island and took away James' father, Charles...
YOU MIGHT ALSO LIKE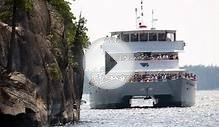 The Manitou Islands of Lake Nipissing - Northern Ontario ...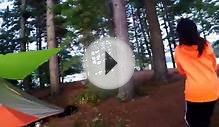 Algonquin Park - Manitou Lake - Small Island Campsite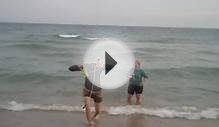 FIltering Water in Lake Michigan at North Manitou Island
Share this Post