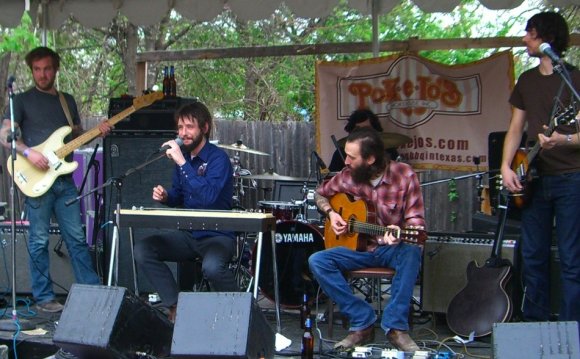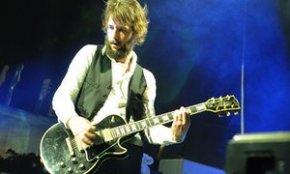 Ben Bridwell performing at the Roundhouse in London. Photograph: Tom Watkins/Rex Features
"In the Air Tonight" by Phil Collins is one of those ludicrous 80s soundtracks whose true brilliance only dawns on you in later years. Back then it sounded ghastly. In fact, "In The Air Tonight" is a superb piece of synthetic divorce-rock. Claustrophobic and bilious, it invests gated drums with unforeseeable emotional heft. It is most certainly not the sort of intro music you would expect from mild-mannered country-rock up'n'comers Band of Horses, a Carolinas five-piece for whom log cabins, Great Salt Lakes and other starry-eyed rustic scenes are not clichés but a way of life.
Long-haired, bearded, waistcoated, and kitted out with not one, but two, lap steel guitars, Band of Horses peddle a twinkly widescreen backdate of Americana that draws on the soft-rock harmonies of Crosby, Stills, Nash and Young and the Hammond organ-bashing of the Band.
For all their pitch-perfect retro charms, however, Band of Horses are a particularly ambitious part of an indie country-rock revival that includes the close harmonies of Fleet Foxes and the echoing soundscapes of scene progenitors My Morning Jacket.
In a nutshell – something southern like a pecan, perhaps – Band of Horses are doing very well indeed just now – reaching number seven in the US album charts – by communicating a sense of hard-won inner comfort, set against the backdrop of the great American outdoors. Literally – their songs are illustrated by a slideshow of the beautiful wilderness shots of photographer Christopher Wilson.
Tonight, Band of Horses pursue this time-honoured musical quest with guitars that sound like bells dipped in honey, and the yearning reverberations of singer Ben Bridwell. Most at home in the upper reaches of his larynx, Bridwell channels a little Neil Young, a touch of Wayne Coyne from The Flaming Lips, a bit of Jonathan Donahue from Mercury Rev, and a lot of My Morning Jacket's Jim James, a singer so concerned with immensity that he used to record his vocals in a vast grain silo.
The flow of Band of Horses' old-time balm is interrupted only every so often tonight by some mild rocking out, or a little gentle marvelling. "The world is such a wonderful place/La-de-da, " muses Bridwell on "Ode To LRC". Sometimes, it is as though Band of Horses have had a portion of their tongues removed, and are unable to taste bitterness.
So when the Horses time their arrival onstage with "In The Air Tonight's" violent drum cracks, it is so wrong, it's right. Being wrong-footed is always an auspicious start to a gig, particularly when the forecast is so certain: the night will be mild, with outbreaks of mellowness. This band's steady rise has been marred only by criticisms that they play their samey songs with insufficient pizzazz. Stagecraft is a new thing for them, and they could do with a little more as their star heads north. Drummer Creighton Barrett tries to throw his drumsticks into the crowd at the end, but misses.
This Roundhouse show is Band of Horses' biggest headline slot thus far, a date added to their constantly extending live schedule. "It's the 77th day of this tour, " quips Bridwell, a scrawny, charming southern gentleman who salutes the wives and children they have left at home. Their last London date, at nearby Koko last April, sold out in 23 minutes; they are due to support Snow Patrol at their huge gigs at the end of the month, and this one-and-a-half-hour set finds the fivesome reaching for the big spaces with mixed results.
Immediately, they launch into a Hammond organ-drenched country-soul number. "Am I A Good Man" by Them Two is an obscurity that regularly crops up on rare soul compilations, and it sounds fantastic. By infusing a little sonic variety into Band of Horses' guitar expanses, it attests, perhaps, to the time the band spent in country-soul mecca Muscle Shoals, Alabama, working on their recent album, Infinite Arms.
More departures like this would have lifted Band of Horses' set. As it is, the evening passes in a pleasant blur of 27 songs from their three albums whose moods vary only a little.
"Is There A Ghost" is the breakout hit from their second album, 2007's Cease To Begin, and they play it with a little more drama and insistence than the others. Bridwell breaks a string and eventually abandons his guitar. But only their sound man would notice the change in texture, as there are two more Horses taking up the slack – beanpole guitarist Tyler Ramsey and keyboard player Ryan Monroe.
When Bridwell and Ramsey return to play "Evening Kitchen" as a close-harmony encore, they receive the biggest roar of the night.
Bridwell spent much of his young adulthood in Seattle in a Sub Pop band called Carissa's Wierd; the first two Band of Horses albums, each recorded with a different line-up, were also released on Sub Pop. Those post-grunge times are recalled in "NW Apt", a three-guitar, four-vocal rouser that proves Band Of Horses might have a little rainy Pacific Northwest angst in them yet.
Certainly, Bridwell's progress has involved a great deal of hiring, firing and uncertainty. If Infinite Arms, the Horses' latest, sounds like a calculated bid for the backs of arenas, it was a self-funded venture, with no record company approving the mixes. Columbia's weight is now behind it, but the Horses retain ownership.
Band of Horses' greatest anthem remains "The Funeral", the signature tune from their debut album, Everything All the Time. Tonight, Bridwell's echoing plaintive voice and spindly guitar bleed into a hundredweight of instruments. It startles at least one canoodling couple.
They crank up the intensity for "On My Way Back Home" and "Neighbor", a thundering exit that suggests Band of Horses ingested some protein shakes on their way back from the toilets. They begin arrestingly and end well, but if they are to transmit a sense of awe with warmth to ever greater numbers, Band of Horses are going to have to vary their pace a great deal more.
YOU MIGHT ALSO LIKE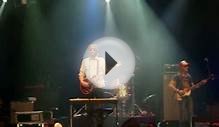 Band of Horses "Great Salt Lake" Live Roskilde 2008 (Day 2)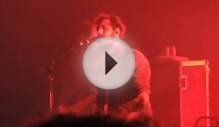 BAND OF HORSES PERFORM "THE GREAT SALT LAKE" - SANTA ANA ...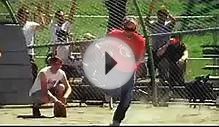 Band of Horses "The Great Salt Lake"
Share this Post