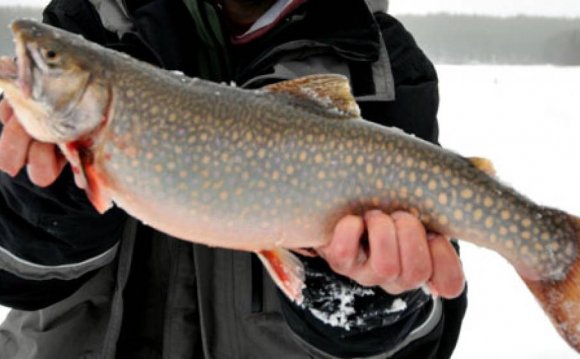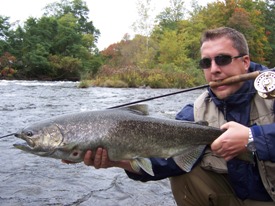 Coho and Chinook salmon are spawned at the Salmon River Hatchery during the month of October. The eggs hatch out in late November through December. Chinooks are stocked as 3 inch fingerlings in May or June. Besides shore stocking, some of the salmon are also pen stocked. Pen stocking is a cooperative effort between the NYSDEC and area sportsman groups. Pen stocking allows recently stocked fish a chance to acclimate to their new surroundings and offers some protection from predators. Fish and feed are provided from the NYSDEC Salmon River Fish Hatchery while the sportsmen's groups build and maintain the pens and feed and take care of the fish for approximately 3 weeks. The fish are subsequently released into the stream or bay. This pen stocking program has been very successful. Shortly after stocking, salmon "smolt" and imprint on the scent of the stream before migrating downstream to the lake. Coho are stocked as either pre-smolt fall fingerlings at 10 months of age (4½ inches long) or as 6 inch yearlings at 16 months of age. The life history of the coho salmon requires that they stay in the streams for at least one year before smolting and moving down to the lake. Once they reach the lake, salmon grow rapidly on a diet of alewives. Chinook salmon returning to the rivers where they were stocked range in age from 1 to 4 years. Age 2 and 3 fish make up 90% of the run and will weigh between 15-25 pounds. Mature coho salmon return to spawn as age 2 fish and will average 8-10 pounds.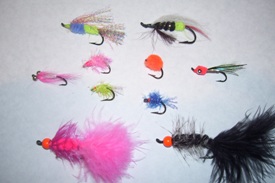 Maturing Pacific salmon begin to "stage" off the river mouths from mid-to-late August. By early September some fish have usually started to trickle into the tributaries. The peak of the run when the best stream fishing occurs is actually a rather short 4 week period. On rivers whose flows are controlled by hydropower dams, such as the Salmon and Oswego, this peak period normally occurs from mid-September through mid-October. On other salmon streams across the state the timing of the runs is more dependent on rainfall. Generally salmon will enter these streams somewhat later with the peak occurring in mid-October. Once Chinook and coho salmon enter the streams, they are no longer feeding. Their bodies are undergoing rapid physiological changes and their sole purpose left in life is to spawn. While they are not actively feeding, they do exhibit several behaviors which make them vulnerable to traditional sport fishing techniques. One of these behaviors is aggression or territoriality, and another is their attraction to fish eggs or egg shaped lures.
Fly Fishing
Fly rods of 9-10 feet long for line weights of 7, 8, or 9 work well for salmon. Reels with a smooth disc drag are recommended to stop runs and tire the fish. Reels should have large enough capacity to hold at least 150 yards of 20 pound test backing. The backing should be fluorescent colored so you can see where the fish is running and so other anglers can see you have a fish on. Full floating lines are best as they allow better line control. Leaders are normally in the 8-12 foot range. For the butt section use a 6-8 foot section of 10-15 pound test line. At the end of this attach a small black barrel swivel. This serves as an attachment point for the tippet section and a dropper for split shot. The tippet section should be 2-3 feet of 6-10 pound test, depending on conditions.
Spin Fishing
A medium or medium heavy action graphite rod 8-9 feet long will allow you to keep line off the water, detect the strikes and play the large fish effectively. Reels should have a smooth drag and the line capacity of at least 200 yards of 12-15 pound test line. A 2-3 foot leader of 8-12 pound test line is also recommended though not required. Using a leader will save you some tackle and time. The leader being a lighter pound test will break, theoretically, before your main line when snagged. That way you only lose your fly or bait and save your weight
Flies
Three basic types of flies are used to catch Pacific salmon when they are in the rivers. These are egg imitations, wet fly/streamers, and stonefly/nymphs. Tie your flies with materials that have a lot of action, color, and flash to attract a salmon's attention and aggravate it into striking. Larger size flies work better earlier in the run in the lower sections of the river. Switch to smaller sizes when fishing for salmon that have been in the river for several days or in the upper areas. Heavy fishing pressure or low clear water would also call for smaller flies and lighter leaders. Use patterns that are quick and simple to tie because you will be losing a lot during a day's fishing both on the bottom and fish that break off. Fly fishing is one of the most successful methods of catching Pacific salmon because of the unlimited combinations of colors, shapes, and sizes that can be created in the fly.
YOU MIGHT ALSO LIKE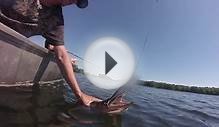 Fishing Bass & Pike - Lake near Stirling Ontario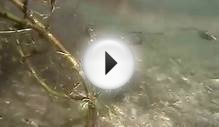 Lake Ontario Atlantic Salmon Stocking 2009, Part 2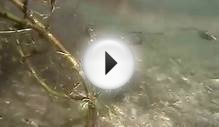 Lake Ontario Atlantic Salmon Stocking 2009, Part 3
Share this Post