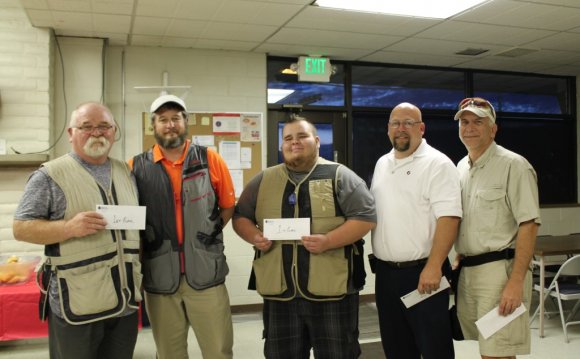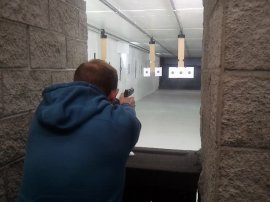 Come visit our newly redesigned gun shooting range in Utah located in the heart of the Salt Lake City valley. Our Indoor shooting range has 12 individual lanes; each with its own target system. Targets can be placed out to 25 yards. When you are ready to check or change your target you simply flip a switch and it will return to you. There is never a need to go beyond the firing line. The range was completely remodeled in 2009, when we installed new target carriers, lane dividers, lighting and distance markers.
The ventilation was upgraded to well above industry standards so that it is cooled in the summer and heated in the winter. We also have a spectator area where your friends and family may sit safely and comfortably to watch you shoot. Come visit the number one shooting range in Utah today!
Hours
The shooting ange is open from 10:00 AM to 9:00 PM Monday through Friday and
10:00 AM to 6:00 PM on Saturday. The range is open the same hours as the store.
Fees
Our shooting range fee is $10 per shooter. That includes free ear and eye protection
and free targets. We have an hour time limit only when our range is full.
Otherwise, you can shoot on the range as long as you like.
Gun Rentals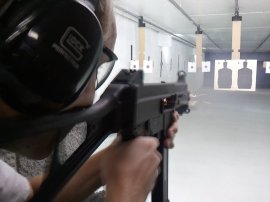 Many guns are available to rent at Doug's. If you want to try out a
handgun, a 22 rifle or a machine gun we can make it happen. Regular firearms are
for the first gun and per gun thereafter. Machine guns are and include assistance in the range from one of our staff. For quality assurance purposes,
when you rent a gun from us, you must purchase the ammunition from us. Our
ammunition prices are low and will vary depending upon the caliber selected.
Group Rates
Group rates are available. Depending upon the size of your group and the
number of lanes you want to use, we can tailor a range program to suite your
needs. If you want to rent handguns, 22 rifles or machine guns we can arrange
that. Instruction is available also. Many corporate, family and church groups have
used our facilities to meet their recreation and training needs. Generally we
charge $60 per hour for one full side of our range (6 Lanes). We have a two hour
minimum for a full side. Please call us to set up a great time for your group.
Memberships
Annual memberships are $250. That price includes high quality Doug's
Shoot'n Sports range bag, hat, ear muffs and glasses. ($200 without the gear)
Annual family memberships are $450 and include the same gear as the annual
pass. ($400 without the gear) A family membership is for mom, dad and kids
under 21 living at home. Annual memberships expire one year from their issue
date.
We also offer a 10 visit pass. A 10 visit pass is $80. This saves you 25% off
of the regular range fee. A 10 visit pass will not expire until all 10 visits are used.
YOU MIGHT ALSO LIKE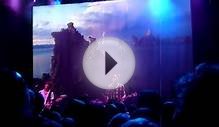 Band of Horses - The Great Salt Lake (Live @ 9:30 Club in ...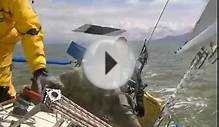 Great Salt Lake Yacht Club Members Cup April 5, 2014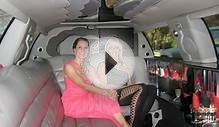 Great Salt Lake Yacht Club Awards Banquet
Share this Post