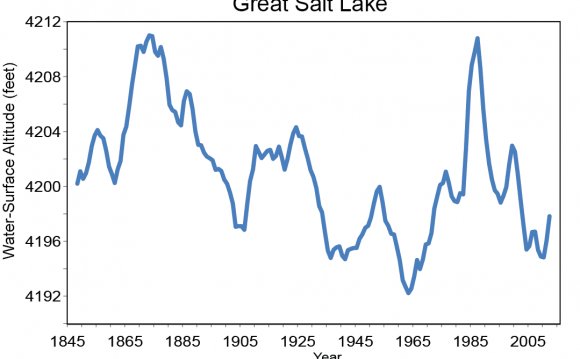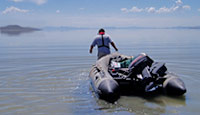 (south part, since October 1938), and at the Little Valley boat harbor northwest of Saline (north part, since April 1966). A third gage was operated at Promontory Point (south part) from October 1986 to September 1999. The elevation of the lake is recorded every 15 minutes and the data are transmitted to a satellite every 4 hours. These data are captured by a satellite downlink and entered into the USGS computer system. Mean daily elevations are computed and made available to the public. Wind and seiche effects may cause substantial short-term changes in elevations, which are not shown in the mean daily values.
Great Salt Lake differs in elevation between the south and north parts. The Union Pacific Railroad causeway divides the lake into two parts. The water-surface elevation of the south part of the lake is usually 0.5 to 2 feet higher than that of the north part because most of the inflow to the lake is to the south part.
Hypersaline lakes are often regarded as "simple" ecosystems because they typically have fewer species than freshwater lakes. Although fewer species are capable of tolerating the stress of a salty lake, those species that are present interact on many levels to efficiently use the food and energy resources available. There is an open water (planktonic) habitat and a bottom-dwelling (benthic) habitat in Great Salt Lake.
Elevation area-volume curve for Great Salt Lake
Great Salt Lake is located on a shallow playa. Consequently, small changes in the water-surface elevation result in large changes in the surface area of the lake. This is particularly evident when the lake spills into the west desert at an elevation of about 4215 feet, greatly increasing its area. The satellite imagery shows changes in the area of the lake from 1972, through the high-runoff period of 1983-87, and ending in 1996. At the historic average (1847-1986) surface elevation of 4, 200 feet (1975 is an "average year" shown in the images), the lake covers an area of about 1, 700 square miles. At the historic low elevation of 4, 191.35 in 1963, the lake covered only 950 square miles. The drop of about 8.5 feet in elevation resulted in a loss of about 44 percent in surface area. During 1986 and again in 1987, the lake reached an elevation of 4, 211.6 feet and had a surface area of about 3, 300 square miles. The relation between water-surface elevation and corresponding surface area and volume of the lake is shown on an elevation-area-volume curve, also called a hypsographic curve (from the Greek, hypsos, meaning height).
View a Quicktime animation (6 Megabytes) of a time-lapse movie showing Great Salt Lake elevation changes from August 1972 to June 1996. The animation is and the video images are courtesy of Utah Reclamation, Mitigation, and Conservation Commission. The animation is about 6 Megabytes in size.
GREAT SALT LAKE HYPSOGRAPHIC CURVE
The hypsographic curve shown below can be used to determine area and total volume of Great Salt Lake (Gilbert and Gunnison Bays) by using the water-surface elevation from the Saltair Boat Harbor USGS gage located at the south end of Gilbert Bay. The data include diked areas for salt extraction located at the south end of Gilbert Bay.
(Includes ponds at Magnesium Corporation of America)
References
Data were obtained primarily by digital planimetry of paper maps. The following data sources used to compile this curve: The 4, 170- and 4, 180-foot contour data for Gunnison Basin (north of causeway) were recorded from a map prepared by A.J. Eardley, University of Utah, April 1961.
The 4, 170-, 4, 180-, and 4, 190-foot contour data for Gilbert Basin were recorded from Map 38, Navigational Chart of the Great Salt Lake South Arm, 1975, scale 1:80, 000, compiled by W.M. Katzenberger, Utah Geological and Mineral Survey.
The 4, 193-, 4, 195-, and 4, 200-foot contour data for Gilbert and Gunnison Bays were recorded from map Great Salt Lake and Vicinity, Utah, 1974, scale 1:125000, U.S. Geological Survey.
The 4, 205-, 4, 209-, and 4, 212-foot contour data for Gilbert and Gunnison Bays were recorded from Satellite Image Map, Great Salt Lake and Vicinity, Utah, 1984, scale 1:125000, U.S. Geological Survey.
translate russian document to english, with
YOU MIGHT ALSO LIKE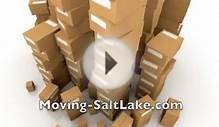 Moving Supplies Salt Lake City | http://Moving-Saltlake.com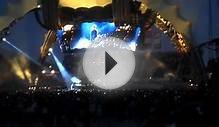 u2 in Salt Lake City - Elevation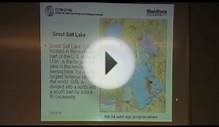 Modeling of Great Salt Lake Elevation Time Series Based on ...
Share this Post